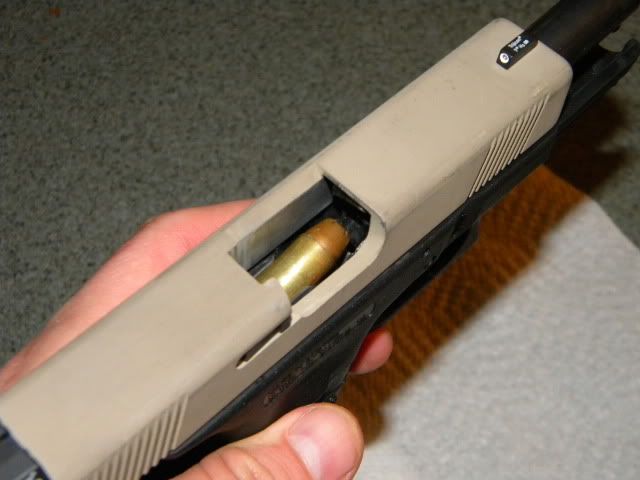 4
SOLD SOLD SOLD SOLD
I have a custom Glock 23 .40 S&W for sale or possibly. I really need the money, but I also know what the gun is worth. I've got it priced to sell, so please don't waste mine and your time with stupid lowball offers. All reasonable offers will be considered.
First of all this gun is the most accurate and nicest shooting Glock I've owned out of about eight or nine.
Glocks have always been my favorite handgun but the factory grip leaves a lot to be desired. So I heat stippled the grip to give it a very nice texture that wont slip out of your sweaty hands during extended range sessions or in muddy/rainy conditions. I didn't stipple the left side of the grip so it's still comfortable to carry, as long as you're right handed, lol. I know a lot of people don't care for the stipple jobs and I've priced the gun with that in mind.
It also has a stainless Lone Wolf Designs slide with front serrations with a custom coyote tan Duracoat finish. Last month I installed Ameriglo night sights. It also has a polished trigger group and 3.5 lb trigger spring, very smooth compared to most Glocks. I also installed an extended slide release.
This gun is not a safe queen, it's a fighting gun. It has been my carry gun for more than a year and I trust my life to it. It's really the best all around gun I've ever had.
I will include my Kholster IWB tuckable holster (broken in), and 4-6 mags or however many I have laying around.
I am asking $425.00 shipped to FFL for everything. $405.00 FTF in east GA.
Pics: