SOLD SOLD SOLD
NOTE: I do recommend this model...the 6MOA-8 MOA ring rocks for CCW even if I do wish it were a 4MOA-6MOA ring. They can be found online at botach for $189.99 and sometimes a discount code will take more off.
LIKE NEW -- HOLOSUN 407CO red dot
This is the version with a ring that is 2MOA thick and 8MOA around. At 25Y, it appears to be 2" around, and 1" at 12.5Y. I like this size dot for CCW since it doesn't jump around as much as tiny dots. I got this one because it's what the youtube guy, TheHumbleMarksman has on his carry G17, but need to sell it to cover xmas stuff.
$160 shipped USPS Priority 2-3 day to lower 48.
DISCREET PP.
I can post feedback from arfcom (+146), ebay, or gunbroker--you'll see I'm good to go.
I could NOT get a reticle pic, but I found one online that someone got of the circle-dot reticle, and mine looks almost exactly the same (but no center dot). Like, this is as close as you'll get with a phone camera I think:
Here's a reticle pic I found elsewhere--this one is a little thin looking compared to what it looks like in real life, but it is a nice, defined ring: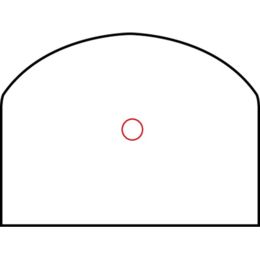 PICS:
If this pic doesn't come up, just email me for it--it's the side with the buttons!
Imagine a perfectly circular hole in the middle of this circle (and the outer edges more defined):
Holosun 407CO
The new Holosun 407CO Micro Solar Red Dot Sight is a pistol-sized optic with an open frame for a great sight picture, clear glass and a rugged 7075 aluminum housing. It is powered by a CR2032 battery and Holosun's innovative Solar Fail-safe back up. The HS407CO can run up to 100,000 on a single battery. The Holosun HS407C has a 8 MOA Ring at the push of a button. Better yet, the same LED projects, so no re-zeroing is necessary. It comes equipped with Holosun's Shake Awake technology with last setting recall. This optic has Holosun's features in one tough, small package.
Key Features
The Holosun 407CO is a parallax free optical design, with unlimited eye relief
Shake Awake technology
Picatinny rail mount included
Solar cell, as well as high capacity battery provide dual power supplies
Industry standard footprint for your pistol mounting needs
CNC machined with 7075 aluminum housing
Solar Failsafe
Holosun was the first to innovate the ability to run an electronic optic solely on the power of light! Holosun 407co micro solar red dot sights equipped with this feature give you the confidence that in the instance that you find your battery has failed, you still can have a fully functional optic provided you have sufficient ambient light. It does not matter whether the light is natural or artificial in origin. Furthermore, the solar array also acts like a light sensor allowing the unit to automatically adjust the brightness to compensate for its surroundings.
Shake Awake
Another great piece of technology created by Holosun is Shake Awake. This great feature allows an optic to automatically go to sleep when the unit has not detected any type of movement or vibration in a specific amount of time that is programmable by the operator. However, once the unit senses movement, the Holosun 407CO will automatically turn itself on and recall the last brightness that was used. This great feature helps promote battery life further and insures the unit is on and ready when you need it!
Specifications:
OPTICAL DATA
Light SourceLED
Reticle8 MOA Ring
Parallax FreeYes
Unlimited Eye ReliefYes
Magnification1x
MultiCoatingsYes
ELECTRONIC DATA
Battery TypeCR2032
Battery Life100,000 Hours
Brightness Setting10 Daylight & 2 NV
MECHANICAL DATA
Housing Material7075 Aluminum
Surface FinishHard Anodized
Housing ColorBlack
Adjustment per Click1 MOA
W&E Range±50 MOA
Storage Temperature-40?-158?
Working Temperature-22?-140?
SubmersionIPX8
VibrationUp to 5000G
PHYSICAL DATA
Window Size0.63×0.91 in
Dimension1.8×1.2×1.6 in
Weight2.65 oz
Central Height0.7 in