Discussion Starter
·
#1
·
You guys know me and my obsession with tinkering with things and measuring stuff. So I have been using my LCT for a little while and I was reminded of up with a couple things that while they sound minor actually make a pretty nice difference.
First thing. I have said this before but always pull the handle 4 times for every time drop a charge. Pull it the same way. Then it will be the most consistent. Remember the powder measure is rotating so it needs to rotate the same amount every time you weight and drop a charge.
Second thing, I like Lee Dies (well most of them:whistling
. You guys know I am weird like that. So once again, because of the rotating turret I actually think it's important to use the Lee Lock Rings as Lee intended. The idea behind the lock ring with the o-ring under it is to let the die float and find their own center. I was having some "scrapping" with my crimp die. As soon as I loosened the lock ring the scrapping went away. I actually put a extra o-ring under the seating die. The threads of the die still hold it's upward travel to the same spot so your OAL will still be consistent. You can buy 7/8 o rings at the store and do a similar thing with a regular lock ring. Lee's have a retaining shelf built in them that seems to help hold it in place.
Third thing. And this is pretty common knowledge but I mention it just in case. If your safety prime is not getting primers in the cup put a extra washer under it to raise it up a little and see if that helps. It helped a lot on mine.
If you ever are one of the 1% that have a issue with the priming arm not moving back in the ram quick enough you can tap it and make it move quicker with a little bolt.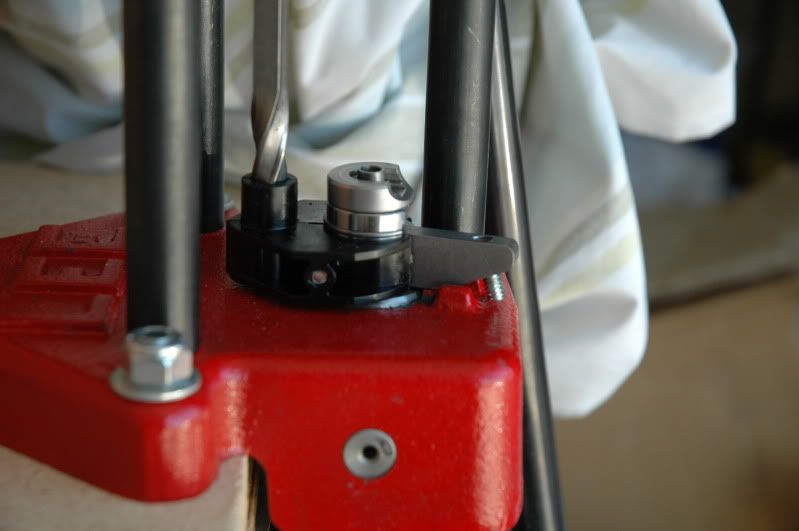 That is what I did to my first one. I only know a couple people who had this issue. But I post this just in case. My new press had no such problem.
Finally, Lee's primer flipper (on the LCT) is the best in the business, especially with LP primers. I wish it was 50% bigger and available as a regular flipper. This is the second one I have owned and both were excellent. The one on my Load Master was not as good. Different design.