First time trying to write one of these up bear with me.
Build:
Upper: PSA 20" FN barrel, with BCG and CH
Lower: PSA(stripped), RRA LPKw/2 stage trigger and Hogue grip, A2 buttstock
Also using a Primary Arms 1-4x24 scope with PA mount, Mag-pul 20rnd mags and AFG, DD 12" Omega rail
Went to the range today to test fire my new AR. I took 100rnds of Lake City xm193 with me. Sighted in the scope and then had a little fun(all shots at 50yds).
First 5rnd group: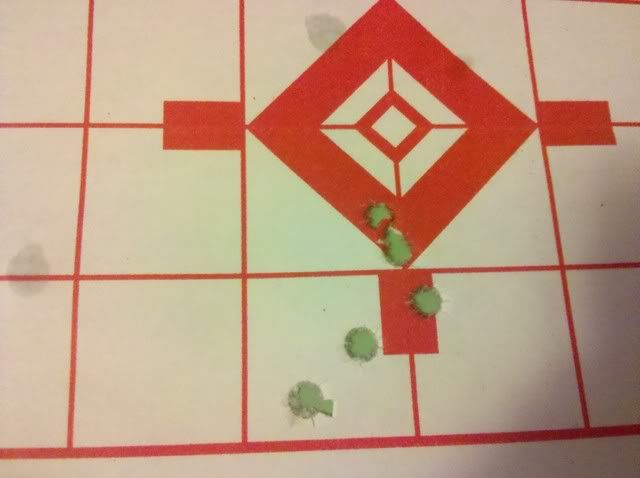 A 15rnd group:
There is one flyer that isn't shown in this picture that is about 4in high of the center.
After firing 80rnds I figured it was time to see if the accuracy was going to open up with a hotter barrel.
Last 5rnd group of four groups.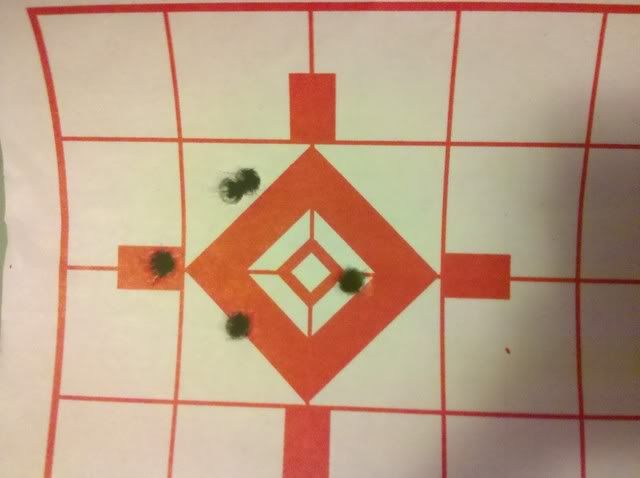 Didn't seem to effect my shooting too much.
All in all I'm pretty happy with my new rifle. I need to work on my marksmanship a bit at 50yds all of those groups should be touching. But, I'll make excuses for myself a say that it was my first time shooting a scoped rifle.
Only malfunction I had was a feeding issue caused by my mag. I was loading off of stripper clips using the tool that comes in the case of ammo and I could tell that the last two or so rounds hadn't seated correctly. I thought that i had fixed the problem but I hadn't and i needed to pull the first couple rounds out and replace them by hand.
Thanks for reading,
Erawk