Ok. This is a Kel-Tec forum. I recently sold my P-3AT...wife did not trust it so we got rid of it (after shooting 150 rds).
Went to the range today with my PF-9. If something could have gone wrong during firing...it went wrong. Shot Winchester White Box from Wal-Mart. I have 150rds through this weapon as well. Took 100rds to shoot.
I had at least one Failure to Eject per magazine. Used three mags, all factory Kel-Tec. Cleaned and lubed the gun before I went to the range.
I had Failure to Fire three times. I had such crazy bad luck that a bullet even got lodged in the slide facing up! Hell, my grip caused the magazine to release twice.
Thought it might have been the CTL attached to the gun - not enough grip surface left on grip...so I removed the CTL, took a more aggressive stance...and shot more. Yes, a bit better - but still one FTE per magazine.
I willed myself to put 75 rds through the gun. Now I am going to clean the hell out of it, take pictures of it...and put it on sale. There is no way I will let this serve as a BUG while my Glocks perform 100% all of the time (yes, I know it is not a range gun, primary carry, or a GLOCK...but it SHOULD work). Had some of these same issues when I took the gun to the range originally - thought it just needed to be broke in.
Ok, opinions? Please don't tell me ALL of the FTE/FTF were due to limp wristing. I will give one or two...I flinched couple of times due to long trigger pull...
See ya later Kel-Tec...don't come back!
MAG RELEASE DURING FIRING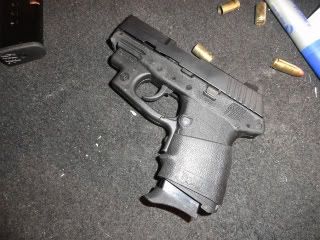 FAILURE TO FIRE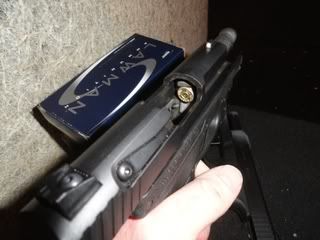 FAILURE TO EJECT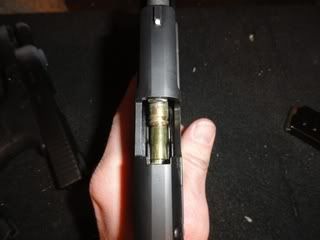 FAILURE TO WTF??!!!