Discussion Starter
·
#1
·
All prices include shipping to your FFL holder in the lower 48. AK and HI shipping can be negotiated. These are very nice long guns...all are used but some I have not shot since purchasing. Make sure your FFL accepts shipments from an individual.
About the only trade I would be interested in would be an ultralight 44 Mag (Taurus Titanium or S&W 329PD) with a short barrel...4" or less. Might also consider an ultralight concealed carry 38 or 357 or Glock 26 or 27.
Custom Remington 722 with a beautiful Maple Thumbhole Stock in 7mm-08. Original owner was a guy who shot 300 meter silhouette.
It has a reversed taper 25" stainless Hart barrel, 1 in 9" twist, with a unique crown. Trigger is set to 16 ounces and the rifle is currently a single shot with NO safety although a mag box and safety can be added with alterations to the stock. The bolt has some kind of extension added to it that I am not sure what it is for but probably has some function. The paint on this extension is peeling but otherwise this rifle is beautiful.Scope not included but can be negotiated if interested. $700 shipped.
Howa 1500 270 Win with very nice Hogue overmolded stock with aluminum bedding blocks...has rubbery feel to it. $425 shipped
Weatherby Vanguard in 300 Win Short Mag $325 shipped
German K-98 (I think) 8MM Mauser, very nice wood with a LOT of engraving on receiver, sights, floor plate, etc. Probably dates back to the 1930's although I cannot verify that. Guy I bought it from said his dad brought it back from WWII. Can email many other pics to show the excellent engraving. Good shape for gun of this age but one blemish on butt stock. $725 shipped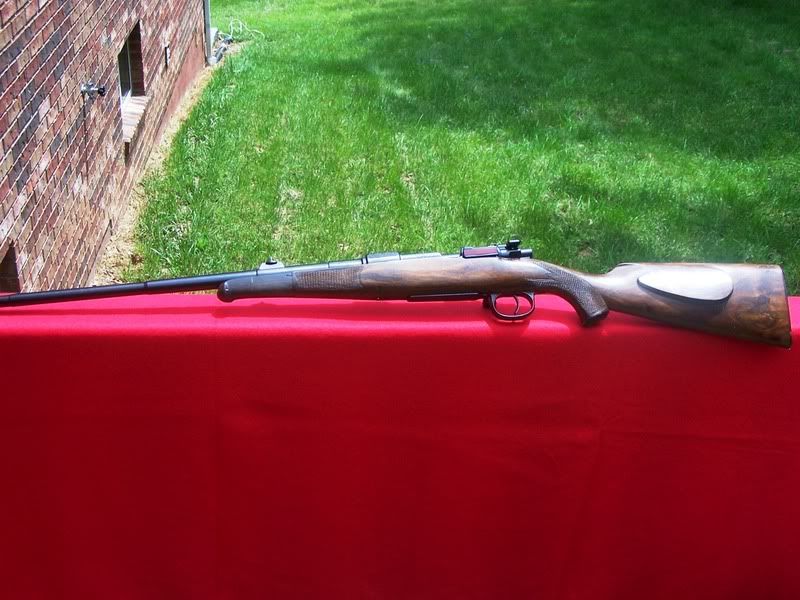 Mossberg 5500 12 gauge semiauto, pistol grip, heat shield (has a small indention and a slight amount of surface rust...hard to see). These are not made any longer. $300 shipped.
More pictures available via email.