Discussion Starter
·
#1
·
ok, so not really a review but showing some targets.
I wanted a target rifle because my shoulder is shot and not allowing me to target shoot with my handguns much anymore. My arms shake really bad now.
I love my Marlin .22 magnum, it's my favorite rifle because it's cheap to shoot, feels like a "real" rifle compared to my Marlin model 60's, and is ridiculously accurate. Cant beat $70 for a brick of 500!
But I wanted a little more ooomph, but not much, My shoulder cant take recoil.
So I got this savage edge in .223.
It costs a whopping $349 with the bushell scope installed. I got the camo.
I took it out and cant say enough, I am really impressed. It will shoot 1 inch groups all day, never any bigger, and sometimes much less.
(If I do my part of course)
As this target shows. A clean 1/2 inch center to center 4 shot group shooting Fiocchi Vmax 40 grainers at 3600 FPS. at a measured 100 yard range course.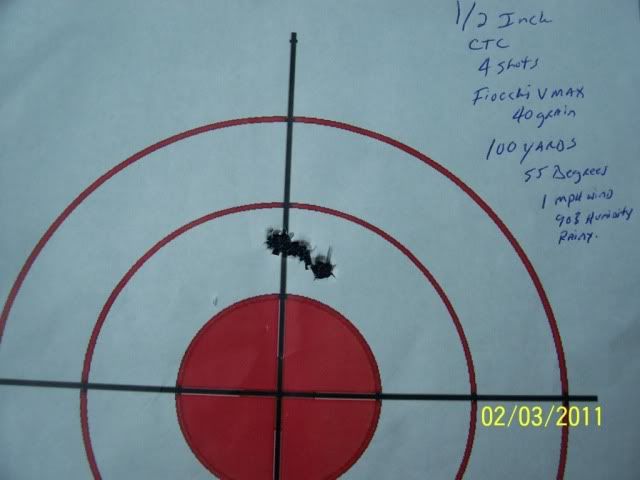 I can't say enough about a cheap rifle doing this. Sure there is no accutrigger, but if I can shoot a 1 inch OR BETTER group, is an accutrigger necessary? Really?
The trigger is a crisp 5 pounds and is all I need.
The only drawback I see is the finish is a cheap blue that looks like a nitride finish, and the magazine release is made of plastic.
Besides that, fellows, this rifle is steal and I highly recommend it if you are wanting to target shoot.
I chose .223 due to low ammo cost.
Even Golden bear ammo will group an inch.
Also Long after all the guys at the range have shot their 40 rounds of .308 or 30-06 and are tired of it, I am still having fun blasting away.
I give it a gatorhugger stamp of approval!
Give it a try.