This page will help identify the manufacturer:
http://cartridgecollectors.org/?page=headstampcodes
...but I'm not sure that's what you're asking. Ultimately, it's going through your die, so they'll all be the same externally. The only difference will be internal volume. That's why you separate by headstamp (you can use mixed brass, just don't push max).
If it's got the NATO circle cross: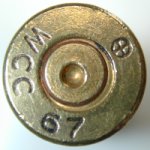 You know it was 5.56mm and it's a good bet the primer pocket will need to be swaged or reamed out.