Discussion Starter
·
#1
·
Yeah, shoulda done this last week, but eh.
UFC 87: Seek and Destroy
Non-televised:
Ryan Thomas(9W-1L) vs. Ben "Killa B" Saunders(5W-0L-2D)
Don't know enough about either one. No prediction.
Steve "Hollywood" Bruno (12W-3L) vs. Chris "The Professor" Wilson (12W-5L-1NC)
American Top Team vs. Team Quest, hmmmm... I'm gonna go with Wilson.
Jon "Bones" Jones(6W-0L) vs. Andre Gusmao (5W-0L)
I have heard good things about Gusmao so he is my pick.
Cheick Kongo (21W-5L-1D) vs. Dan "The Viking" Evenson (10W-2L)
I feel sorry for Evenson. Kongo by highlight reel KO.
Luke "The Silent Assassin" Cummo (9W-6L) vs. Tamdan "The Barn Cat" McCrory (10W-1L)
Contrary to his record, Cummo can scrap whereas McCrory's big test ended like this:
Sensitive content, not recommended for those under 18
Show Content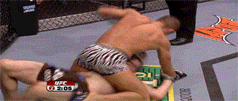 However, that was against Akihiro Gono, so it is excusable. I am going McCrory in potential fight of the night. By sub. But McCrory NEEDS a better nickname. At least he doesn't drink his own pee though.
TELEVISED UNDERCARD
Jason "The Athlete" MacDonald(21W-9L) vs. Demian Maia (8W-0L)
I am going with Maia by sub. MacDonald is a tough mofo, but Maia is a demon on the ground.
Manny "The Anvil" Gamburyan(9W-3L) vs. Rob "The Saint" Emerson (9W-6L-1D)
I prefer Gamburyan's other nickname, "The Tanklet." He is built like tank and lays on his opponent like a blanket. I don't like Gamburyan, but there is no denying that he is a skilled fighter. Grey Maynard beat the crap out of Emerson and I say that Gamburyan is gonna maul him. The Tanklet by Sub.
Co-Main Event
Kenny "KenFlo" Florian (9W-3L) vs. Roger "EL Matador" Huerta (22W-1L-1D)
How can a guy with 24 fights under his belt only have one real challenge until now? Huerta is a rising star and El Matador is the UFC's golden boy for getting in with the hispanic crowd. Florian will bring Huerta crashing back down to earth hard, with a sub in the second round. Maybe KenFlo can win some fans over with his fluent spanish. The winner gets a shot at BJ Penn. Good going UFC, way to punish accomplishment. :supergrin:
Co-Main Event
Brock Lesnar (1W-1L) vs. "The Texas Crazy Horse" Heath Herring (29W-13L-1D)
While Herring has the definite experience advantage, having as many draws as Lesnar has wins, Herring has shown a weakness against strong wrestlers and you will be hard pressed to find a heavyweight with Lesnar's wrestling credentials. That combined with Lesnar's insane power, speed and distinct size advantage means that The Texas Crazy Horse is getting put out to pasture. Herring's only chances are a flash KO while Lesnar's coming in for a shot or use his so far unseen submission skills. Lesnar by ground and pound stoppage in the first.
Main Event
UFC Welterweight Championship.
UFC WELTERWEIGHT CHAMPION
Georges "Rush" St. Pierre
5'10" 170 lbs.
(16W-2L-0D)
vs.
CHALLENGER
Jon Fitch
6'0" 170 lbs.
(21W-2L-0D)
St. Pierre has the definite advantage, but Fitch is riding a
15 fight
win streak with 8 of those wins in the UFC. Fitch is tough but St. Pierre seem preternaturally gifted. I will bravely pick staying on the fence for this fight.