Discussion Starter
·
#1
·
Today started off much like any other day, other than a phone call from a family member asking if I got off work early enough to get a pup out of a shelter for them. The shelter closed in the late afternoon and family member worked till 7 tonight, didn't want to risk waiting until tomorrow as it's not a very good shelter, very rural, no funding. Of course these are the types of shelters that I usually end up bringing dogs home from only to fix them up and rehome them at a later date. Every day left there is danger for a young pup.
I drive the approx. 45 minutes to the shelter, arrive and within a couple of minutes establish that the pup in question was adopted a week ago :faint: , despite multiple phone calls today from both he and I establishing that the pup was being adopted today. I won't even attempt to understand or explain that, as this is life in the rescue world. You learn that the nice shelters keep up on these types of things, the low funded dumpy ones don't know who's coming and going on a day to day basis, who has already been adopted or euthanized, etc...
So I said to myself.....self, I'm already here. I might as well zip through and see if there are any shepherds or high mixes here, make sure they look ok and have a chance of making it out into a home. Of course in the back of my mind I hope that I won't see anything, but I check each cage of barking dogs. Mostly pittie types, a couple labs that were already on a rescue hold, some hound mixes. And in the back of one kennel laid the most pathetic little black and tan bundle who paid me no attention upon coming to his cage. He was lethargic and curled up in a ball. When I inquired about him I was informed that "that one" (not he, she...) was in an outdoor pen next to a larger dog at the shelter. The larger dog dug under the pen and attacked the pup leaving approx. a dozen puncture wounds on his inner thighs, legs, one on the throat, and a couple on the cheek.
I reminded myself that I'm currently paying a very large vet bill on my horse, but then the pup looked at me, and as they say....his fate was sealed. I wasn't leaving the shelter without him, because they made it clear that vet care there wasn't going to happen, and it was obvious he either had parvo or a nasty infection going on.
So I paid his $30 pull fee, signed my name twice, acknowledged they'd done all they could, and we headed off in hopes of finding a vet who was still open by the time I got back to my side of town.
He was basically given a clean bill of health by the vet, although he's pretty banged up and beyond exhausted. He's on anti-biotics and a pain killer (he's pretty sore on his left hind leg which has 5 or 6 good punctures). He's an adorable and sweet pup, but of course he's pretty out of sorts right now. The family member fell in love with him (took him over after the vet visit) and he's residing there for the moment. Probably permanently. They live in a very nice (large) apt, and no sheps are allowed. He's a mix for sure, but a high mix and looks awfully shepherdy, so it may not fly. He will come live with me if it's a no-go.
In the tub, getting the poop and grime washed off. Can't even express how nasty and dirty he was.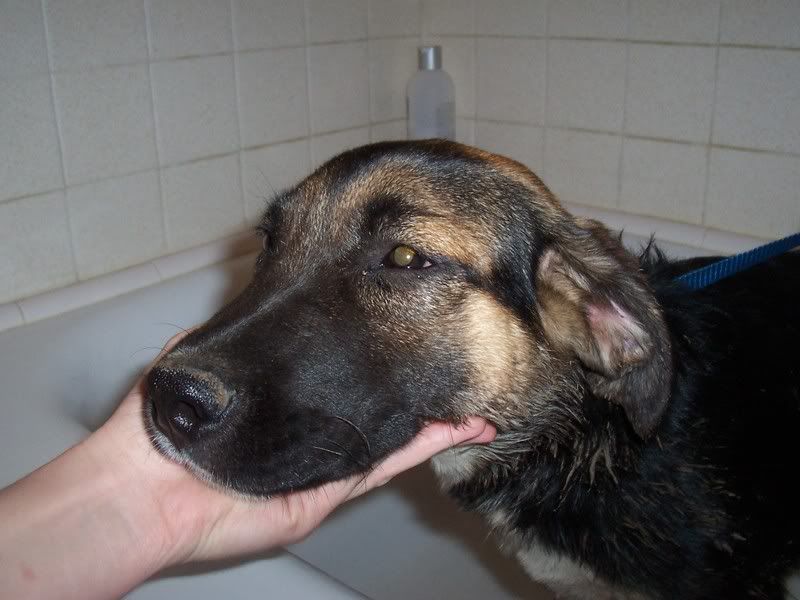 As said, very - VERY - tired!
This was by far the most I could get him to perk up, also shows best that there's a bit something else going on there breed-wise. The ear set to me says some kind of retriever. Lab maybe.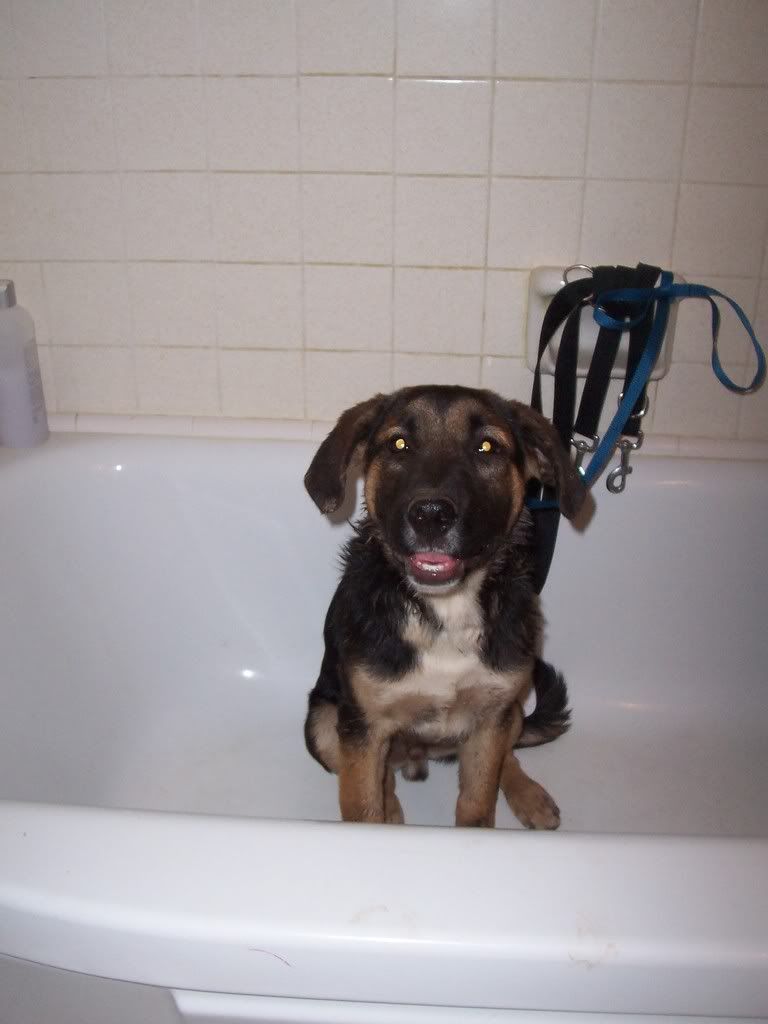 He is about 4 months old per the vet, and lost several of his puppy teeth in the attack.