Discussion Starter
•
#1
•
Ok guys looks like I will be moving to the west coast in mid August, and rather then try and figure out the cali gun laws and drop cash trying to dissect this into something that meets their idea of legal, I am just going to sell this AR and add the proceeds to the moving fund (Maybe it will cover my gas for the trip.... ok probably not)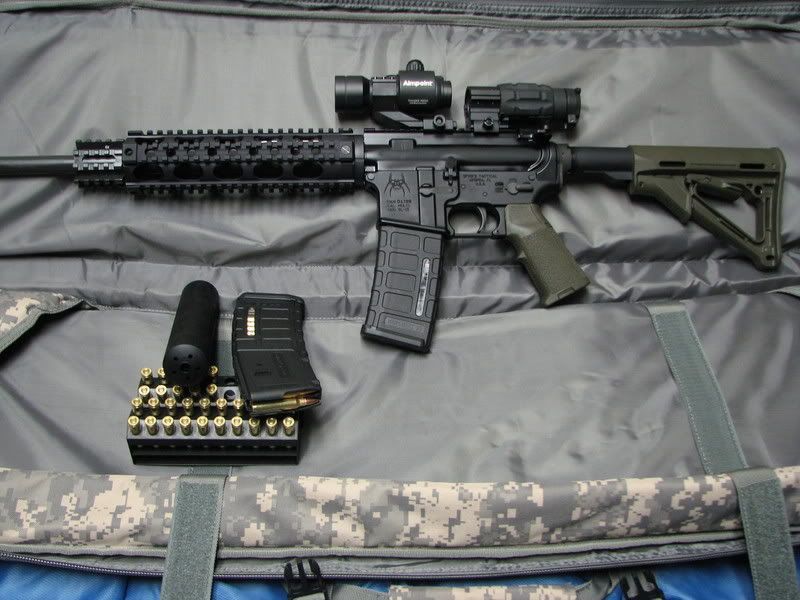 Chambered for 5.56
16 inch chrome lined 1:9 heavy barrel
Free floated YHM quadrail
Mil Spec Magpul CTR stock
RRA 2stage trigger
Quadrail Gas Block
Full Magpul Miad grip kit
Flat top Upper with M4 feed ramps
Spikes Lower receiver
The rifle is in near perfect condition, a couple very minor blemishes on the lower from assembling the LPK, if you're not looking for them you wouldn't even notice. And the roll pin on the trigger guard is not pushed in all the way since I hadn't decided which miad front strap to use yet. You can either finish it yourself or remove it and use one of the other miad options.
There is also no muzzle device on the rifle but it is threaded so you can throw yours on.
It's less then 4 months old I bought it when I got my tax return, less then 100 rounds through it without a hiccup. I am looking to get what I paid for it 1300 + FFL fee and shipping if it's not a face to face deal. That's what I paid for everything and you don't have the labor of putting anything together
If your interested in the optics (red dot and 3x module), extra mags (a mix of Pmags, Colt and Okay all USGI spec) , rifle bag, cleaning kits etc make me an offer and we will work out a price depending on what you want. If you're in Maine I even have some ammo you can have with it, not enough to make it worth paying shipping for someone out of state but probably 130 rounds or so enough to get a feel for it.
If you are not in Maine then we can go the FFL route, I am not sure how to handle the payment out of state as this is my first attempt at selling something on the net but if you're willing to work with me on finding a method that works for both of us we are golden. (Feel free to post what has worked for others, if you have bought/ sold previously)
PM me questions or offers. This transaction has to be completed by the 2nd week of August, keep that in mind please. That includes payment shipping etc. If the deal isn't done by August 9th then I will bite the bullet and take what I can get from friends or local gun brokers.
You could probably find a better deal if you looked for a while or built your own, but I am honestly just looking to recoup what I have invested into it, If I wasn't moving I would surely keep it. So make me an offer and we will talk