Discussion Starter
·
#1
·
*** Long read *** Long read ***
After much debating (mostly with myself), reading and then some more reading, I finally decided to equip my recently acquired Colt LE6920 with an optic sight. The next step was deciding on which way to go. I mean unlike rest of the world, USA has a great many choices as far as optic sights for rifles go.
For the longest time I was considering the variable power Nikon M223 1-4x and the Leupold AR optics, but considering that I might use the rifle for duty (LE) purpose, and my department does not allow any type of magnified optics on personally owned, duty used guns, I quickly decided to go another route.
I then looked at both the EOTech and Aimpoint, finally deciding to go with Aimpoint, Comp M4s to be exact. The unit is powered by single AA battery which is supposed to last 80000 hours. Because, anybody, even least interested knows the specs of the sight, I'll skip the obvious and present my first impressions of that sight.
I ordered my Comp M4s from DSG Arms website, where my LEO discount brought the price way bellow the MSRP, which according to some websites is in the range of 843.00$. While not affiliated with DSG Arms I have to say their costumer service is second to none. I ordered the sight on Monday, and had my "paws" on it by Thursday.
Sight comes in... ready for it(?) ... yes a cardboard box. I mean WTF I paid a good money for it and the thing comes in CARDBOARD BOX!!!
The box contains the assembled sight (QRP 2 mount, spacer and killFlash) along with bikini lens covers, and the battery.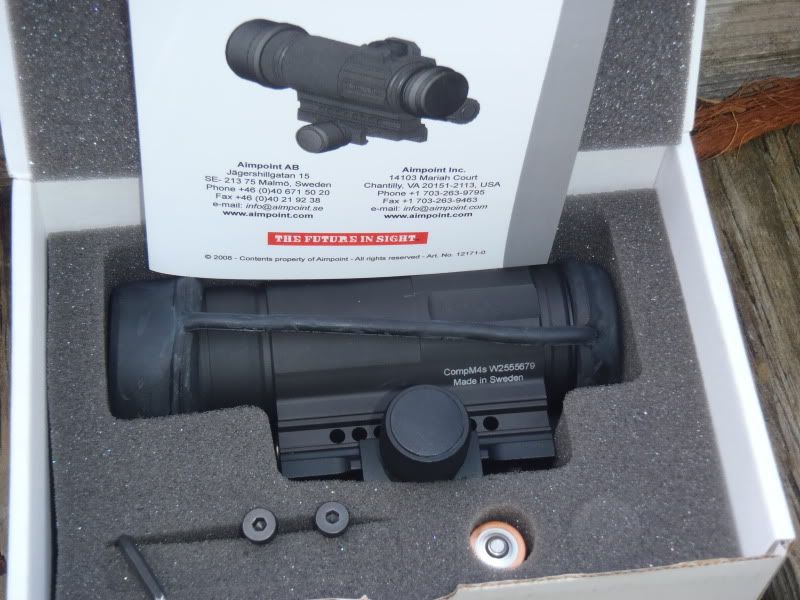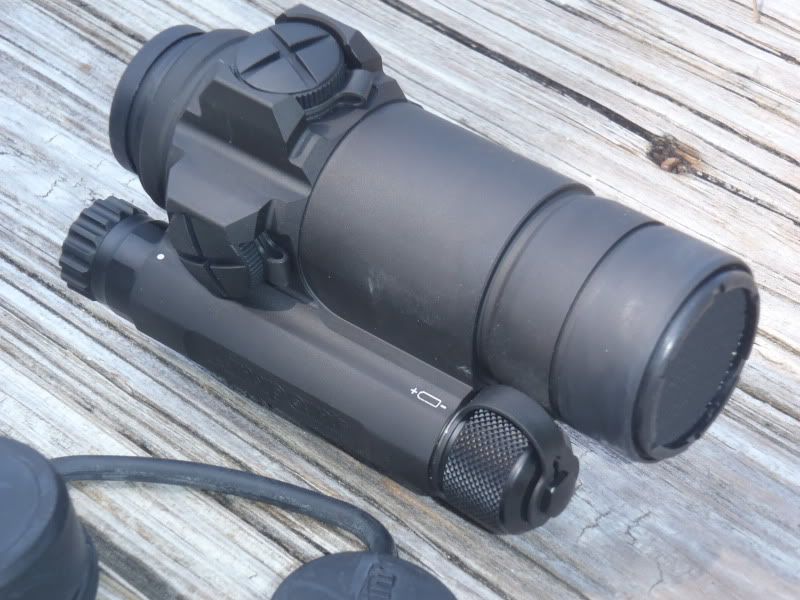 The sight comes equipped with everything one needs to install it on the rifle, so after inserting the battery, I coupled it with the Colt LE6920, making sure that the tightening knob snapped twice (yes, I actually read the instructions that came with it :supergrin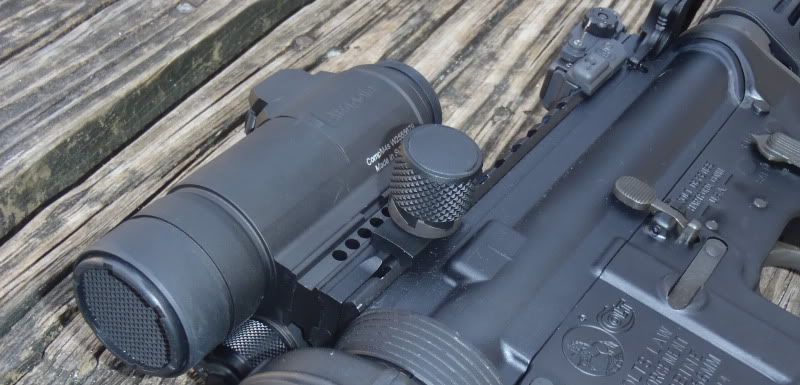 I have installed an A.R.M.S #40 L-P rear sight on my rifle, and with that being folded down, the view of the Aimpoint is unobstructed.