SHTF GEAR: Cool Holsters for Hot Days or Any Season!
Choices! Choices!
That's what the warmer months mean to many of us this time of the year or even a few months earlier when the temps start to rise around the nation.
Should a person go with a full sized service pistol like a 1911 Government model or ..Commander, a P-07 Duty or an even bigger CZ97B like I've carried in the past?
http://i62.photobucket.com/albums/h117/redsoxwa/CZs/shtf-brown-loops_zps6ae33bf4.jpg
Then there are what are called the Compact guns, smaller in most dimensions than the
military and police type service pistols. This would be the Glock 19 and the SIG P228/229
if you are into SIGs. Not to mention, the excellent M&P Compacts that are on the market.
Ease of carry and concealment, along with a good modem of power is the goal there.
The Sub-Compacts really shine when even the Compacts are too big and heavy to carry.
My choices have been the CZ 2075 RAMI in 9mm, and both the Glock 33 in .357 SIG, and the
Glock 26 in Nine. I'll add that Ruger's stainless SP-101 5-shot 38/357 is also a good choice and has spent some time on my hip as well.
However, when it's really hot out--sometimes even the sub-compacts don't cut it.
This means an even smaller semi-auto pistol or a smaller framed revolver is needed or
desired.
Most feel that these "Pocket Pistols" are ideal for hot climates when t-shirt and shorts
are the daily attire, or you need to have deep concealment of a firearm for your workplace
or other venue. Pistols from the stoic Walther PPK line to the newest sensation for Glock
owners, the not quite pocket sized ( for some) Glock 42 in .380. The Ruger LCP (also in .380 caliber) is also very popular.
Other summer carry guns might include a j-frame or the light and smooth to shoot Ruger
LCR or the LCRx models.
http://i41.tinypic.com/5luyo4.jpg
I even carried a Micro Desert Eagle .380 pistol for one summer.
http://i61.tinypic.com/14vh5yx.jpg
All of these options for pistols and revolvers, leaves a big question as to what Quality
holster you need or want to carry your choice in...or in some cases ..multiple choices?
One company that's been cranking out excellent Hybrid ( A blend of both natural
cowhide and kydex or some other synthetic material) IWB (inside the waistband)
holsters for a few years now, is SHTF GEAR.. located in Utah.
Myself, having came across them on Defensive Carry forum in Jan of 2013, was
surprised that they offered holsters for CZ and Glock handguns, but nothing
for the CZ 2075 RAMI models (Alloy and Polymer frames/decocker) at that time.
[URL=http://s62.photobucket.com/user/redsoxwa/media/CZs/12-3_zpsda5cdc4a.png.html]
http://i62.photobucket.com/albums/h1...psda5cdc4a.png
Well, all of my emails to them and... waiting until last month.. finally paid off.
Clay and crew at SHTF now indeed offer RAMI holsters, and in their case for the
RAMI BD ( has a small decock lever) holster fit my allow framed/safety model like a glove!
A DECADE Of EXCELLENCE: With over 25 years of carrying CZs of some sort and 10 years with my RAMI and a few months with a CZ-USA Cutomized a RAMI P (Polymer Frame) I know what
is a good holster for a RAMI and a not so good one.
I will try to save some bandwith in this review, and Link the larger pics of
both SHTF GEAR holsters and their proprietary magazine carrier.
FROM THE BOX:
The brown box with the SHTF GEAR fan logo arrived a few days after I requested the
gear for review.
Strating with the RAMI (BD) tagged holster, it comes in a plastic bag with a decal and allen wrench for
adjusting their new Generation 2 holsters that now feature adjustable retention!
Why am I so excited? Well, I've often wanted a tad more rentention in some of my
Hybrid holsters and now SHTF is giving me that.
While I'm no longer leading a narcotics interdiction team or tasked with arresting dangerous
felons, I like the have my holsters adjusted for both good retention, and also to be fairly fast on
the draw.
The SHTF ACE-1 ( Always Combat Effective) holster is 100% American Made, and a very high quality IWB for the $59 (plus shipping) price point.
I've had holsters from them in the past that included both black and brown belt clips
and leather or synthetic mesh belt loops.
Like the CZ 2075 RAMI holster the Glock 42 .380 holster came with the black belt clips.
These pics show the box and packaging:
http://i62.photobucket.com/albums/h1...psdeb0e9ea.png
http://i62.photobucket.com/albums/h1...psd67b9c61.png
http://i62.photobucket.com/albums/h1...ps21b18294.jpg
FIT AND FUNCTION:
The RAMI holster fits wonderfully and I only had to adjust the screws a little bit for
my desired rentention.
A very good looking to right handsome holster with or without my RAMI inserted.
The (optional) SHTF GEAR horizontal Magazine carrier enhances the top quality look.
They use Kevlar sitching and quailty hardware on all of their holsters.
Here is the rear view of the
RAMI ACE-1:
http://i62.photobucket.com/albums/h1...ps193d3efb.png
My RAMI carried very well over the two week evaluation time.
http://i62.photobucket.com/albums/h1...ps5444a0aa.png
A couple times out to dinner, and of course the Wal-Mart break in trip, where it rode
very secure, but still as comfortable as my other SHTF GEAR and other brand IWBs.
The holster was the right height in my waistband, and we got along famously!
http://i62.photobucket.com/albums/h1...psacade2ca.png
I do like the high "sweatguard" on the ACE-1 holsters, and often overlook that
on some holsters when reviewing such.
The Generation 2 ACE-1s seem to have a deeper SHTF LOGO imprint than say my earlier holsters do.
http://i39.tinypic.com/29gokdt.jpg
http://i62.photobucket.com/albums/h1...ps92e074ff.png
One of the neat things about the ACE-1 or most Hybrid holsters is the ability
to tuck your shirt, and only leave the clips exposed on your belt.
Using this feature...one can hardly spot than I'm carrying a Sub-Compact 9mm with a double-stack magazine.
Hybrid for your Pocket Rocket :
Moving onto what I consider to be as sweet a holster as the GEN 2 ACE-1
for my RAMI.
Here is the G42 ACE-1 from the package:
http://i62.photobucket.com/albums/h1...pse2005c9b.jpg
http://i62.photobucket.com/albums/h1...psddd63d56.jpg
Empy holster showing the kevlar stitching and also featuring the adjustable rentention
screws like the RAMI holster.
http://i62.photobucket.com/albums/h1...ps83675868.png
My (wife's) Glock 42 inside the ACE-1
From the back you can see how you can adjust it for height.
http://i62.photobucket.com/albums/h1...ps1d338bd3.png
The gun and holster combo concealed easily under a summer weight shirt
The G42 seemingly dissappears when tucked in.
http://i62.photobucket.com/albums/h1...ps16f94bb9.png
Talk about a lightweight and comfortable holster to carry your .380 around the town in!
http://i62.photobucket.com/albums/h1...pscdc8c401.png
Carrying a Spare, SHTF GEAR Style:
Their Horizontal Mag Carrier or just single mag pouch appears to be of some sort of rubber or other synthetic material, but like their holsters, also of good quality.
http://i62.photobucket.com/albums/h1...ps5d3f92b3.jpg
Velcro patches allow it to be mounted on your belt in a hurry, or taken off
even faster. The flap secures with said velcro as well.
http://i62.photobucket.com/albums/h1...psc760c75f.png
I found that my RAMI 14 shot magazine with the funky baseplate didn't want to fit in
it well..
but the smaller and thinner Glock 42 .380 mag with the Pearce base worked
like a charm!
http://i62.photobucket.com/albums/h1...pse904a773.png
It would be a good way to carry that spare G42 mag somewhere on the belt if you
don't like or couldn't utilize pocket carry of your spare magazine.
http://i62.photobucket.com/albums/h1...ps550ee5a9.png
A Woman's Prespective:
The Glock 42 holster caught my wife's eye as I took it from the box.
She gladly agreed to model it for me at the end of my evaluation period,
and here are the pics:
She normally doesn't wear a belt, but the ACE-1 seemed to fit well in her older
oversized jeans.
The postion of the holster and forward rake allowed her to make a few comfortable
practice draws.
No struggling with her gun trying to inseert it or get it out of the holster.
The tuckable feature worked well here:
LIke me, she came away impressed with the Glock 42 holster and the SHTF
Generation 2 improvements.
I'm really liking the Ace-1 with the brown clips from SHTF that I added to my superb
RAMI holster: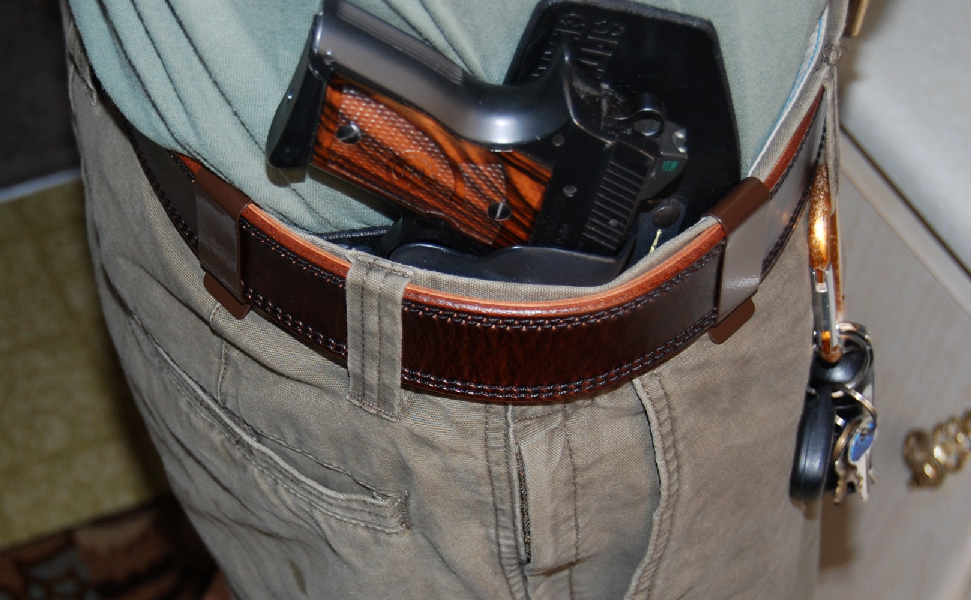 I can see this holster lasting for a long time, and my RAMI for at least another 10 years!
The Glock 42 holster seems to be of equal quality and will no doubt see years of service.
Now that summer is almost over in most places in the USA.
It will still be hot for a few more weeks, and you still can check out the holster models
in this review.
SHTF GEAR offers great holsters and other gear for any season.
Be sure to visit their website and see what attributes their holsters offer.
"It doesn't cost a cent to look!"
LINKS:
SHTF GEAR's ACE-1 2075 RAMI:
CZ 2075 RAMI ACE-1 Gen 2 Holster
The Gen 2 RAMI Holster is not on Amazon quite yet.
SHTF Gen 2 ACE-1 for the G42:
Glock 42 ACE-1 Gen 2 Holster
As on Amazon.com:
SHTF Horizontal Magazine Carrier(Gen 2) :
Horizontal Magazine Carrier, Gen 2
SHFT ACE-1 P-07 DUTY:
http://i62.photobucket.com/albums/h1...psd019f05c.png
As on Amazon.com:
SHTF ACE-1 RUGER LCP W/Crimson Trace
Ruger LCR