I posted this data over at handloads.com but thought there might be some interest here as well.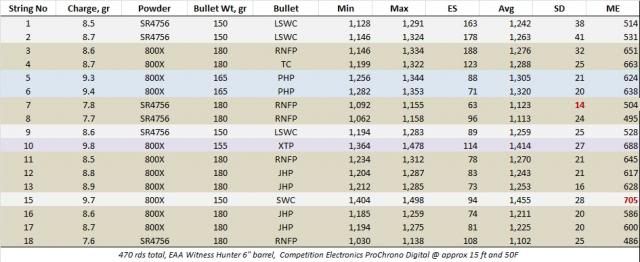 All strings were 25 rds with the exception of a few 24 rd strings. No comments on accuracy--my rear sight adjustment screw backed out and it took me a while to figure out what was going on. Plus the only screwdriver I had in the bag was too thick to fix the issue.
Significant primer flattening on the XTP loads, very moderate flattening on the other hotter ones. All cases ejected about 25 ft with extraordinary consistency--so I got that goin' for me.
LSWC - Lead semi-wadcutter
JHP - Montana Gold jacketed hollow-point
PHP - Rainier Ballistics plated hollow-point
RNFP - Round-nose flat-point (Accurate Molds)
SWC - Lead semi-wadcutter (same as LSWC)
TC - Lead truncated cone (Lee molds)
XTP - Hornady XTP