I came across a great deal at Gander Mountain; not a please I normally would buy a gun, and I could not pass up, was able to buy the Hunter 10mm for $499.99.
The Witness Hunter was designed to be a hunting pistol, comes in 10mm and 45 ACP.
The gun case is one of the best gun cases I have ever seen, it's really solid and has a built in lock.
The cleaning tool is not like you would expect, it's actually made very well and durable, one of the best compact cleaning tools I have ever seen. The rod is solid brass and has a built in swivel, the cleaning heads are also very well made.
First impression:
It is very nicely built and looks great with the wood grips the checkers patterns on the back and front of the grip.
The slide comes with pre drilled and taped holes for a scope mount. It's not for everyone but the holes don't bother me and I will be buying a scope mount from EAA.
Fit:
The fit is tight and very well machined.
Finish:
It has a very nice bluing which is a lot better than the dreadful looking Wonder finish.
Sights:
Adjustable, comes with an extra front sight for added height, easily removed with an allen wrench and punch. No dots just black on black, would prefer a dot or fiber optic on the front.
Trigger:
Single action only and adjustable.
The trigger has a very minute creep which I think over time will smooth out.
Trigger Pull is an average 4.1lbs
There is also a half cock position that pulls in at 3.4lbs. I'm not sure why it has this option, maybe for the reduced weight for a steady trigger pull.
The long trigger guard is great for winter hunting with gloves.
Barrel:
It has a 6" barrel that has polygonal rifling. I like the 6" barrel, seems just right for a hunting auto and gives you some room to steady the barrel on something when you hunt.
It comes with 3 slide springs that allow you to tailor it with different round. Not all 10mm rounds are created equal. I still think the slide spring is not stout enough so I will buy a 20+ lb spring.
Round capacity:
15+1 in 10mm. I like having 16 rounds of 10mm for a hunting side arm.
Weight:
46 oz, add some ammo and you will be over 50oz.
At the range it preformed without any problems, ran my hot reload just fine. Felt really great in the hands and is very comfortable to shoot because of the CZ style grip. At 15 yard shooting with no supports it is very accurate. Even with my poor eyesight. Can't wait to get a scope mounted and see what I can do out at 50+ range.
Over all I am very satisfied with the EAA Witness Hunter 10mm and would recommend if you are looking for long barrel hunting sidearm.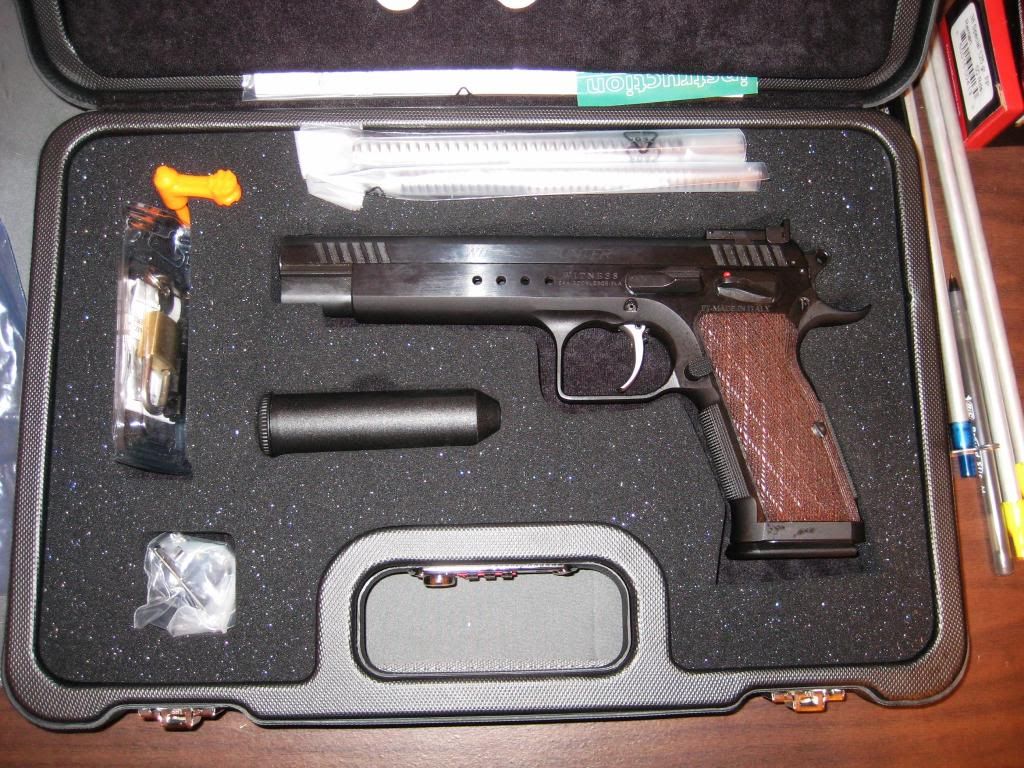 15 yards with no support, Had to adjust the sights.