I wanted a modern 30-06 bolt rifle to go with my M1 Garand habit, and to further justify the cost of reloading, so I did some research, and ended up with what I think is a really slick rifle. I am a southpaw, so the bolt rifle had to be left handed. I decided on a Tikka T3 Lite in stainless steel.
I have an extra 5 round detachable magazine for it to go with the factory 3 rounder. I am using the Tikka/Sako Optilock rings and bases (really a pretty nice setup) and a Nikon Monarch 2.5-10x42mm scope. I have a black leather 1907 sling on it (the only kind of rifle sling I like!), and a Harris Ultralight 6-9" bipod. I mostly shoot offhand or using whatever rest is available to me, but the bipod is very useful for prone shooting.
The action is super smooth and slick, and the trigger is fantastic. Very light and crisp. I'm told it's user adjustable from like 2-5 lbs, but comes set from the factory at 3 lbs, which feels just right to me.
I went out today and sighted it in. I started at 40 yards to just get it on paper, and then took it out to 100. I will probably need to make some adjustments, as I didn't have a great deal of time today, but I ended up with it about 2" high at 100 yards, which I think will be good for about spot on at around 200-250.
This rifle will do every bit of the guaranteed 1MOA.
Recoil from offhand isn't too bad for such a light rifle, but shooting prone off the bipod (how I did most of it today for sighting in) kind of hurts.
I really like the Finnish rifles, and this one is no exception. Very happy with the purchase and results.
Here's a shot of it:
And here's my final 40 yard target before going out further: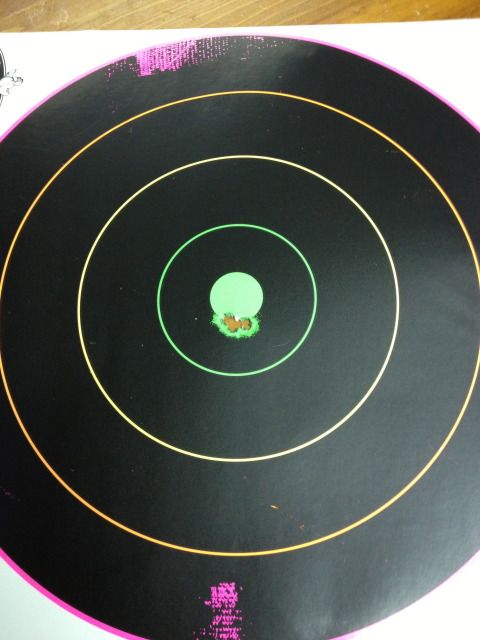 I know 40 yards is nothing to shake a stick at... but my 100 yard target got dropped in the creek walking out of the woods and didn't make it home with me. It was also pretty good. Ammo used was Greek milsurp HXP.