in the efforts of self gradification i made up the name 'Tweener gun to show off my latest accquisition(sp?)...a Rossi 720 .44 special
why do i call it a 'Tweener gun....well, its much larger than the Seecamp which has no conventional rival for size save for the baby Browning .25acp....
but it does fall into the 'Tweener section for revolvers. while its larger than the J frame S&W 640-1 .357 magnum, it is smaller than the L frame 4" 681 .357 magnum and closer to the 2" K frame S&W 64 .38 special. but make note, while the frame size is K frame'ish, the trigger guard is J frame'ish....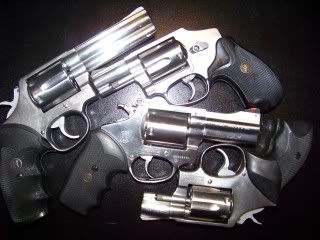 this is my veiled attempt to impress my revolver hero Berto.