On Monday afternoon I drove to northwest Colorado with a
pronghorn
buck tag in my pocket. The game unit I would hunt has a small 1800 acre patch of public land surrounded by large private properties. In that open sage brush grassland prairie, three square miles isn't very big. Unlike some other NW CO areas, this unit doesn't hold large herds of
pronghorn
but mostly small groups and individuals and access is by foot travel only. For these reasons not many hunters apply for the unit, but then, it doesn't take 9-12 preference points to get a tag. I've been able to draw a
pronghorn
license every 2 years.
When I arrived I spotted a solitary buck bedded about a half mile from the road. In fact it was the only
pronghorn
I saw within miles.
With about 3 hours before dark I drove up the road a mile and hiked in a mile and a half hoping to come up behind the buck to get a shot. As I got to where I expected him to be I moved slowly. Unfortunately he had moved in another direction and spotted me before I saw him. It would have been an easy shot at 200 yards but he dropped below a ridge just as I drew a bead. By the time I got to the ridge he was nowhere to be seen within a half mile.
Camping in the truck overnight I started the next morning hiking the same route in. About a mile and a half in I watched a
pronghorn
buck and 14 does in a private hayfield a quarter mile away. but they were moving off. Just then I spotted what looked like the buck from the night before. At a thousand yards he was working his way through the sage angling toward a small pond. Though he was just walking he covered ground quickly and I struggled to sneak through the low sage and get a vantage before he disappeared over a hill.
In short order the buck bypassed the pond, ran and stopped in spurts, now moving away from me. I kneeled, rested the rifle on a sage branch, and took the shot. It was really a stretch for my little 4x Leupold Alaskan scope, but the shot was good. I paced it at 330 yards. The 150 grain Nosler .30-06 would have dropped about 4" from a 200 yd. zero. After field dressing I dragged him a half mile mostly downhill to the road, and hiked a mile to get my truck.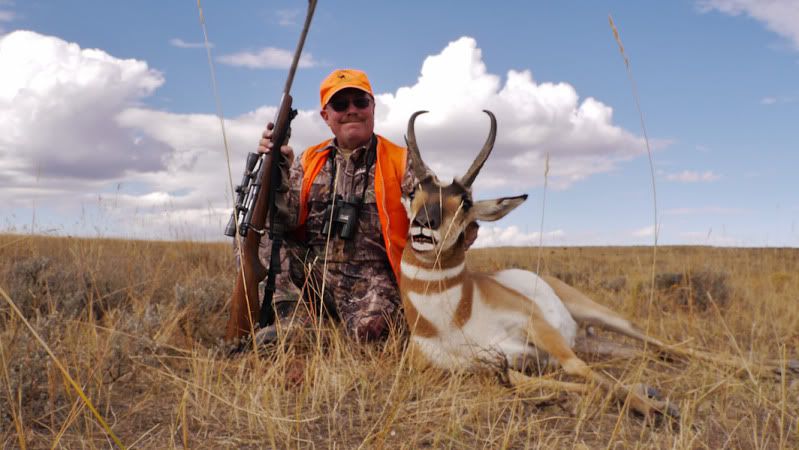 He's a young buck, hardly a trophy, but I earned him and had a great hunt. I'm convinced he was the only
pronghorn
on that property when I was there!
In that open country I saw plenty of other wildlife, a number of mule deer, two Bald Eagles, a Golden Eagle, a Harrier, Red-tailed Hawks and Turkey Vultures, two groups of Sharp-tailed Grouse and some Sandhill Cranes. There were the ubiquitous Horned Larks, Brewers Blackbirds, Savannah Sparrows, Mountain Bluebirds, and flocks of migrating Western Meadowlarks. Well, that's
pronghorn
hunting in Northwest Colorado.