Recently I discovered the Ruger 10/22 and I decided that I would add the following to our collection:
2 Underfolders, one for me and one for my wife (DONE)
P90 Conversion(DONE)
SlideFire Conversion
There's really only one option for the underfolder and the SlideFire but there are a couple different ways to do the P90 conversion.
In less then 2 weeks of research I think I covered all of the options:
Red Jack Fire Arms ZK-22 Stock
Well P90 Airsoft Modified for 10/22
High Tower Armory 90-22 Stock
It didn't take long for me to pass on the RJF ZK-22 for several reasons:
It doesn't look or work exactly like a P90
It is expensive - $299 Direct from RJF with a very long waiting period / $450 Ebay
Assembly looks complicated (based on their assembly video)
Rifle access for cleaning looks complicated (based on their assembly video)
They have issues shipping them ( a friend at work paid for his in November of 2012)
From what I have read the customer service isn't up to par.
Being a tinkerer, I was pretty convinced that I would go the "modified Well P90 Airsoft route" and even bought an inop P90 airsoft, but I was going to do it right by bedding the entire action and incorporating some machined parts.
THEN
I found the High Tower Armory 90-22 Stock and that was the end of the debate for me
It's price tag may seem high at $229, but I think all of the innovations and features make it worth every penny.
I recently bought and assembled my HTA 90-22 and it was exactly as I expected
It looks, feels and works like a P90
It is very solid and well designed
Assembly is simple
Rifle access for cleaning is simple
The action is secured with the action screw and it has aluminum bedding rails
The carry handle/optics rail is only attached to the left side so you do not disturb your optics if you have to clean your rifle.
The optics rail is aluminum
The P90 Charging Handle works like a P90 and it is made from steel.
It has many neat features like an operating factory safety and the fake P90 Mag doubles as ammo storage.
I decided to go with a tactical Ruger and the factory barrel and flash hider is just a smidge over 26" but you have to permanently attach the flash hider to the barrel to make it legal.
I wanted mine a little bit longer so I backed the flash hider off 3/16". Then I installed a .700" barrel shroud with JB weld, which not only filled in the gap between the crush washer and the shoulder of the barrel, but it also made the front end look better. Once the JB weld cured I pinned the flash hider and had it TIG welded. Then I re-installed the barrel and it was exactly 26.25" long.
It's not the easiest way to do this but I love the look: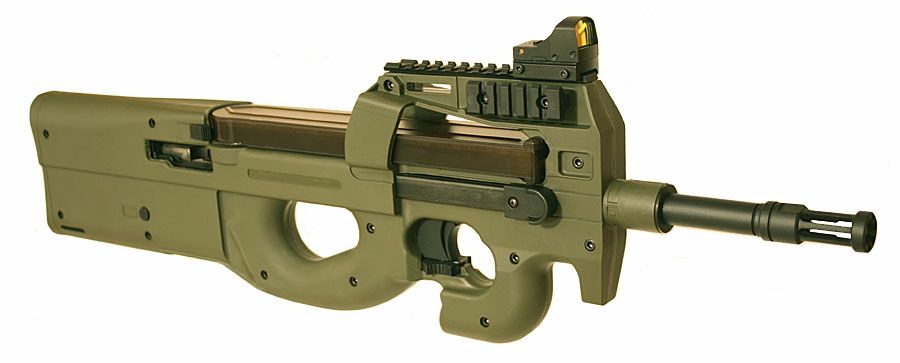 If you're interested in this stock TheRookVoice did a great series of videos, here are the links:
INTRODUCTION:
OVERVIEW:
ASSEMBLY:
RANGE: