If you're not a Chicago Bulls fan, this might be boring. But a fun week for me. Gatlinburg with the GF last weekend, then up to Chicago to see Da Bulls, courtside seats.

CLICK LINK BELOW IMAGE FOR THE VIDEO...
We got VIP parking (with special entrance even, by Jordan's statue), then checked out D Rose shooting. I talked to a photographer, and he had been dunking before they let the public in. The photog said he is looking really good, and better every day. His shooting was solid (about 75% from three point range).
Great game...blah blah...(Noah had an historic triple double, Bulls won). Here's some video....(D Rose footage you won't find anywhere else, because I shot it). P.S. those cheerleaders are tiny little things, but they're darn nice to have practically in your lap.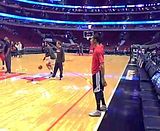 http://s67.beta.photobucket.com/user...9f295.mp4.html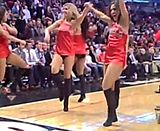 http://s67.beta.photobucket.com/user...6f6c7.mp4.html
http://s67.beta.photobucket.com/user...e3ac6.mp4.html