Quote:
Originally Posted by
SouthpawG26
This is the typical tool: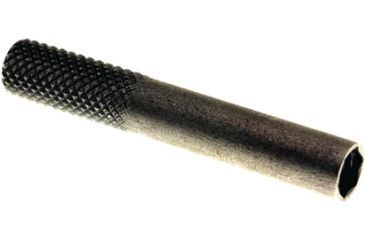 And this is the typical finished installation:
Hope that helps. Don't forget a little drop of low strength thread locker.
It looks like what I have ordered, the one is like the picture you provided and one that is like a nut driver style
I have a model 34 and it does look like the clearance I see in your picture might be a tad greater on the narrowest side (forward), but the nut in your picture has the flat forward and on mine the nut point is forward and the appears there might be less clearance but I might be alright.
The 34 has a pass through hole on the bottom of the slide to reach the nut so its a little harder to get a clear view. Using a brighter light than I was first using maybe the clearance I see in mine might be equal to what I see in your pic.
Youd think Glock might get a little more centered with the sight hole and the clearance cut. Thanks again.
Your picture of the wrench really shows how it manages to work with the very thin wall.
And a drop of blue 271 (med) thanks for the reminder.