The Problem: Too many different Model Handguns and limited availability of holsters
The Solution: A holster kit from Bulldog Custom Gun Leather
www.bulldogleathercompany.com
I'm now offering my Bulldog Summer Special Holster in a semi-finished, mold it yourself kit.
Today, there are so many more makes and models of handguns then ever before. Also, there are many older discontinued classic handguns, with few if any quality concealed carry holsters readily available.
I receive many E-mails from customers wanting a holster for a handgun that I cannot accommodate because of limited mold gun availability.
The easy to use kit comes to you dyed, glued,stitched, with finished edges. You follow easy step by step instructions using your own pistol. You wet mold the holster to fit your pistol, finish to your liking, and mount the belt straps with included kit hardware.
I will be able to accommodate the requests for most medium and large frame semi-automatic pistols.
Ordering information and wet molding tutorial are included on my website.
www.bulldogleathercompany.com
The cost of the Bulldog Summer Special Holster Kit is $50.00 plus $6.10 USPS Priority Shipping
Pre-Molded Holster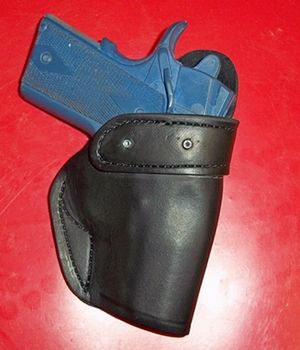 Hand Molding with a simple tool.