Dave Harrington 2-Day Combatspeed Handgun - May 5-6, 2012 - SCOTTSDALE, AZ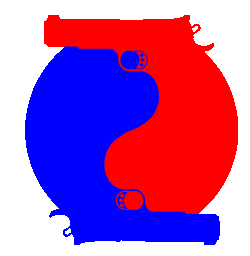 Martial Gun
http://martialgun.tripod.com/train.html
Dave Harrington (a.k.a. "Super" Dave) is the President of Combatspeed LLC which is located in Tampa Florida. Dave is a two time retired senior weapons instructor from the John F. Kennedy Special Warfare School at Ft. Bragg, North Carolina. 23 years of military experience, the last 16 of which he spent in the Army's Special Forces. He qualified as an expert infantryman, conventional and HALO (high altitude, low open) paratrooper, Ranger, and finally combat weapons craft instructor at the John F. Kennedy Special Warfare Center at Fort Bragg, N.C. Some of the nation's most elite counter terrorist fighters trained under Harrington there.
Grey Group Training:
www.greygrouptraining.com
Dave Harrington 2-Day Combatspeed Handgun - May 5-6, 2012 - SCOTTSDALE, AZ
The focus of the Combatspeed Pistol Program is the technical knowledge required of shooting a semi-automatic pistol with skill, and the tactics & tactical use of the semi-automatic pistol to fight effectively. Combatspeed LLC firearms' training strives to develop the individual. The moment you decide the pistol should be used "under any circumstances" within your authority to do so, it simply becomes a matter of exactly when and how to use the firearm effectively in the least amount of time. Combatspeed LLC training submerses the client in an environment that places emphasis on developing their abilities to; remain calm / learn how to observe / be aware and project awareness / increase attention span / to develop the mental capacity and agility to rapidly analyze, prioritize, decide, and act with synchronized effort in accordance with your authority to apply lethal force.

Instructor:
Dave "Super Dave" Harrington
Class Dates:
May 5-6, 2012
Cost:
$450.00
Location:
SCOTTSDALE, AZ
Class Weapon & Gear Requirements:
- Reliable handgun of reputable manufacture w/maintenance equipment
- 2,000 rounds of ammunition
- Personal first aid kit to treat yourself for minor injuries, and a trauma kit
- Quality holster and 4 magazine pouches (2 doubles/4 singles, etc.) and a minimum of 4 ea. 15 rd magazines, or 6 ea. 10 rd magazines (1911 Drivers have 10 each 7/8 round magazines or 10 each 10 rd magazines.
- Know your handguns zero. Expect to work as close as contact distance and out to as far as the facility allows.
- Seasonal weather gear, functional clothing & foot gear
- Have a suitable garment or vest for concealment work
- Eye & Ear protection
- Knee and Elbow pads are recommended
- Hand Held Flashlight(s) / Attachable Firearm lights w/extra batteries
- Have at least 20 each ST Action Pro training rounds, they will be incorporated into training.
- Duty uniform & equipment (to include "tactical" shooting gloves) is recommended for participating military and law enforcement officers
*** Plan to eat lunch at the range on each training day! When packing out for training remember; "It's better to have it and not need it, than to need it and not have it" ***
If you are interested in attending this class please use this link to the Grey Group Training sign-up page:
http://store.greygrouptraining...ED-PISTOL-37593.html
If you have any additional questions please feel free to contact me;
training@greygrouptraining.com