Since completing my milled Mak I've been itching for a new project-AK. I purchased the perfect candidate today. She's a diamond in the rough at the moment. I haven't had time to go to work cleaning her yet but a cursory inspection was promising. Aside from the grunge covering it she's in good shape. Internally, she's new. Externally, she looks like she's been in somebody's garage in a corner for 20 years. Handling marks and general grunge abide as can be seen in the picture below.
Would love to get some ideas on where to go with this one. Mine is a "CW" prefixed gun, imported by Kengs in Atlanta, meaning it was originally equipped with a wooden stock. As the bayou lug has been ground and an "sp" electro-penciled next to the original AKS 762 markings it was obviously hung up and converted in customs.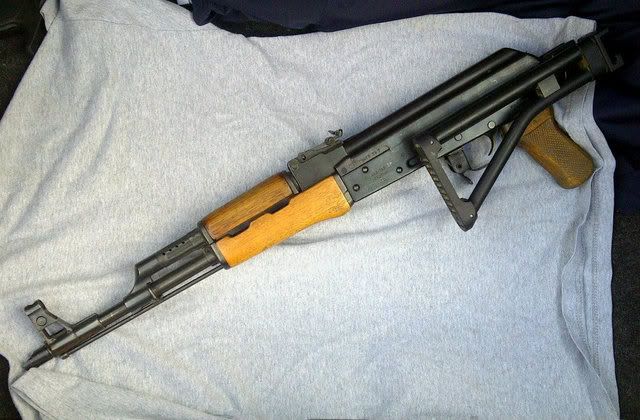 The one pictured below is one of the CS models imported by Kengs in Atlanta. As you can see it's similar but the stock isn't the same. The one on mine is an ACE. My guess is the original owner tried to replicate the below configuration.