Hey guys, I've been bitten by a new hobby and I'll be streamlining my caliber to 9mm only so my Glock 21 is up for sale.
Asking price is 95k
Package includes the following:
Gen 2.5 Glock 21 (no accessory rail, but the unit has 3 retaining pins) Safe Queen only 500 rounds fired total.
2 OEM 13 round magazines
1 OEM 13 round magazine with +2 pad
BRAND NEW (never fired but loaded) Kriss Vector 28 round magazine
BRAND NEW (never fired but fitted) Lone Wolf G21 Threaded barrel with protector
Original FSSG Selector
Fab Defense Glock 21 Retractable Stock
Kydex IWB with 2 Pieces Mag Pouch (Right handed)
BRAND NEW Andrews Custom Leather Glock 21 OWB with 1 piece matching mag pouch
Harrts Recoil Reduction Guide Rod
OSOE single point adaptor
Laser Products (SureFire) Glock 21 Incandescent Trigger Guard Tac Light
SureFire KX4D Defender Head for the taclight (LED with sharp bezel)
Surefire Pistol Tape switch
Hogue Wrap Around Sleeve grip
Generic Gun Case (Looking for the Glock tupperware, will forward to buyer once found)
I also have the stock barrel, back plate etc so if you don't want to use the FSSG you can return it to the original configuration.
Packaging and literature of the LoneWolf & Harrts are still with me, but I am still looking for the FSSG leather case and manual.
Licensing is on the buyer, but I can assist you so it'll be fast and affordable. Downpayment and submission of requirements
is a must, and the unit will be released upon completion of the transfer.
I would like to sell this as a set, and if you guys don't lowball me I will give the usual surprises (either some premium carry ammo or a tacticool toy or two).
Assembled: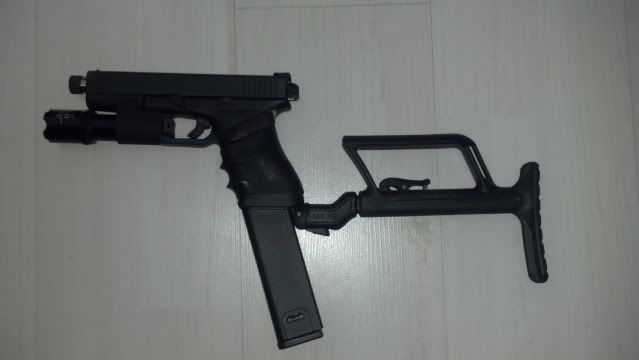 PM's are welcome but please text before calling me.
Contact No. 09277417948