Hey all,
First time poster here. Thought I'd kick things off by sharing my custom G26 mod.
I've always wanted a compact weapon light on my G26. Now with today's tech I have not only a 100 lumen tac-light, but a built-in green laser as well!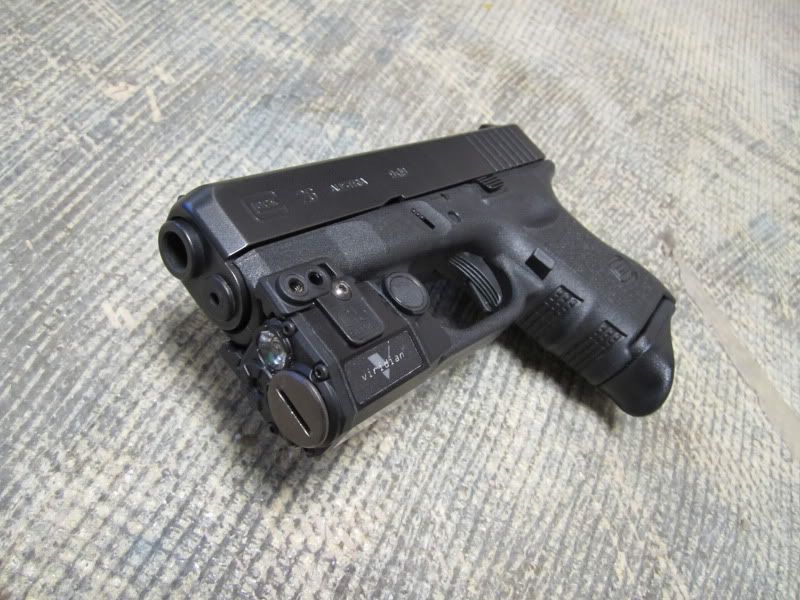 I can't understand why Glock hasn't included an integrated rail on their G26 and G27 models. I thought for sure they would have at least included this feature on their Gen 4 models, but Glock FAIL.
(strange seeing those two words together. It's quite the rare occurrence.)
Anyways, I've had a mind to do this mod for years. I've looked into all of the sub compact weapon lights. Started off by looking at the X2, but I wasn't too impressed with it's weak 40 lumen output. (Thought I've read that you can upgrade to an 80 lumen LED at an extra cost.) I also didn't like how much it stuck out past the barrel. I set out to find something smaller and brighter.
I looked at the TLR-3 (90 lumen output), but it appeared to have the same problem as the X2, it stuck out way past the barrel. I also came across S&W's Micro 90 which has a 90 lumen output as well and has similar dimensions as the TLR-3 and X2. Again, same problem sticking out past the barrel, but I thought maybe I could modify it to shorten the LED bezel, so I bought one. Picked it up for about $75 at Midway.com
I love the controls on it. Very easily accessible and it's super bright, but upon closer inspection of it's design I came to the conclusion that I just wouldn't be able to mod it the way I had hoped. So the search continued.
Finally I settled on the Viridian C5L. I wasn't really even looking for a laser, but I think they have their applications and the C5L allows for multiple modes of operation including just the light, or just the laser, or both. It also has a few strobing options which seems like it might be effective in disorienting the target and also saves battery life. Bonus!
Its much more expensive than the previous options with a price tag of around $275-$300, but so far I'm very happy with my purchase! This green laser is extremely bright! I had no problems seeing it at 25yds on an overcast day and it held zero just fine. I've read that some people have had trouble with it keeping zero, but I think Viridian has since worked out those kinks. (I'll report back once I get some more field use out of it at further distances and on a bright sunny day.)
So, to mod my glock to accept the C5L I started by measuring the height and depth of the rails I would need to cut and masked them off with electrical tape. The C5L comes with 3 sets of plastic mounting brackets to fit just about any pistol on the market. I wish these were aluminum instead of plastic. Probably my only complaint with their product. I chose the brackets I thought would work best for the new rail that needed to be cut into the G26. I knew I would need to cut a groove underneath and there isn't much room between the tip of the gun and the serial # plate underneath the frame. I kept this in mind when selecting the mounting brackets I was going to use.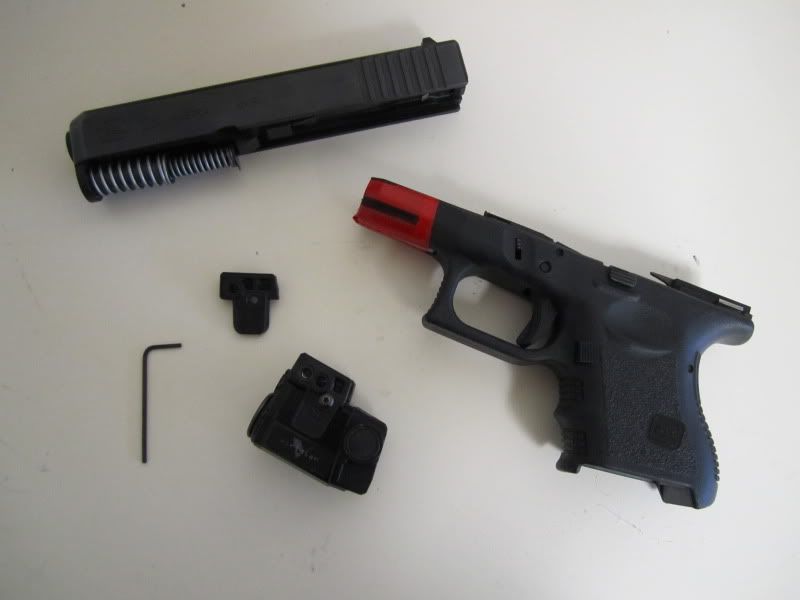 Initial cuts done w/a dremel tool and emery cutting wheel.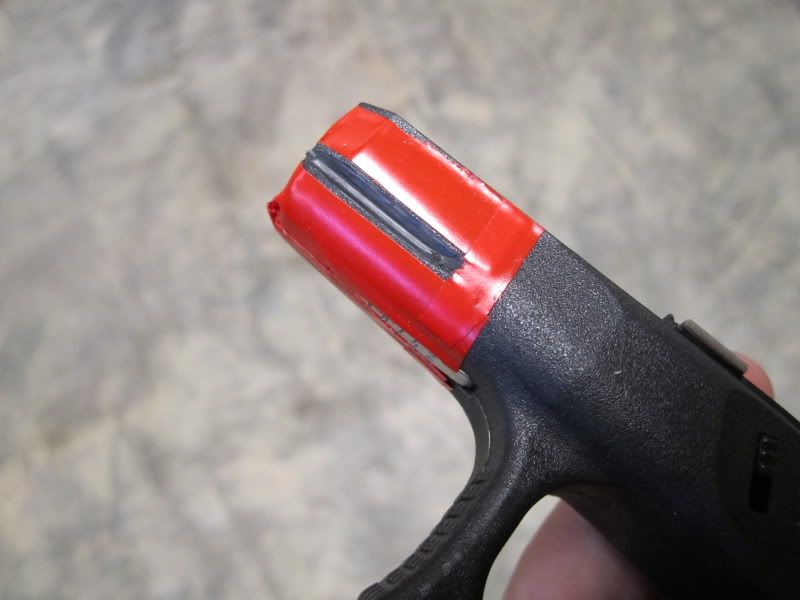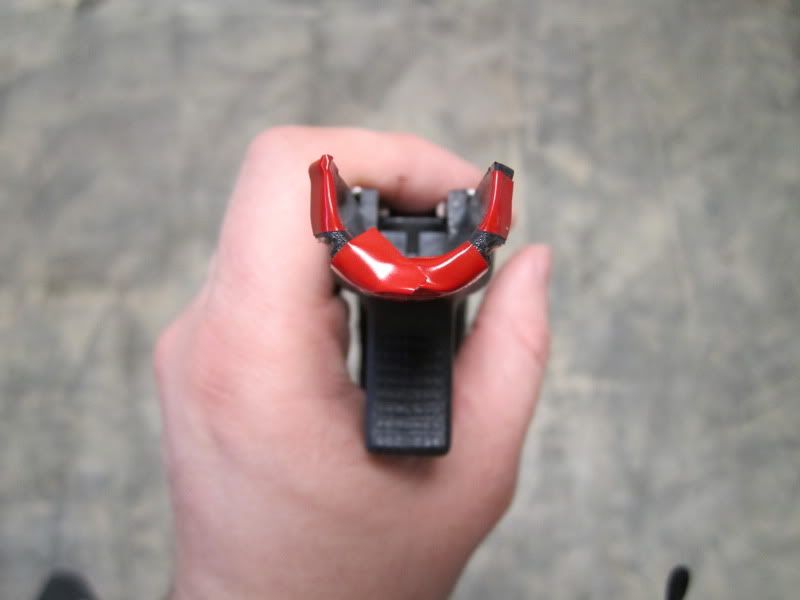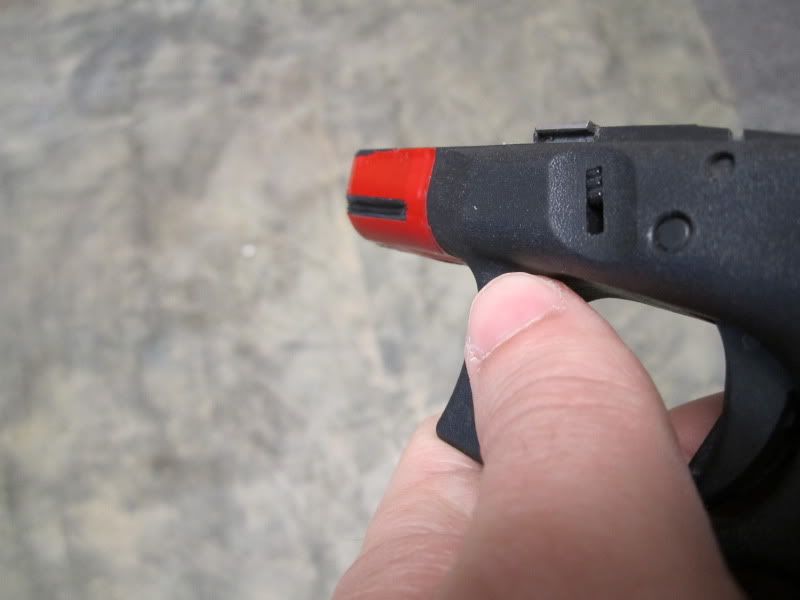 Underside of frame masked off.