Custom
Its time to discuss some of the best guns in the world, 1911 or otherwise. These are the full custom builds by some of the top 1911 smiths and custom builders. Custom guns are guns built for one person by, in most cases, one person. Its hard for me to really recommend my guns in this section to anyone, because your tastes and preferences are most likely different. What I can do is show you what I ordered and who I ordered from to give you some ideas. I own five of these masterpiece 1911s and will discuss each. As it stands, I have three scratch built customs and two that started life as new production Colts, one on a Series 70 and the other a WWI reproduction. More specifically, I have a build by Paul Liebenberg at Pistol Dynamics, George Smith and team at EGW, Ted Yost at Heirloom Precision, Mark Morris at MCP, and Brandon Strayer and team at Infinity Firearms. For those interested, there is plenty of information to be found on the web about the smiths I mentioned here, as well as others. I researched several magazine articles posted online and read a great deal of material on these individuals and shops before placing orders. I will add that as incredible as these are, they're also quite expensive and certainly not necessary to experience the greatness of the model 1911.
Pistol Dynamics Signature
The first gun I'll discuss here is my Pistol Dynamics Signature. Paul Liebenberg is the owner of this company and the custom smith doing the work. Before starting his own company, Liebenberg worked for Pachmayr as well as starting the Performance Center at Smith & Wesson. He is a true master of his trade and incredible quality and workmanship of this pistol is evidenced as soon as you pick it up. This gun was ordered in 2007 and completed two years later. To ensure I got the build right, I spoke to Paul for a good hour when placing the order. It's built on Liebenberg's in-house frame and features many Liebenberg exclusives. This certainly qualifies as having all the "bells and whistles". When I talked to Paul about my specs and preferences for this gun, no stone was left unturned. I will list the build sheet for this and all my customs, but the features on this Signature include a ball and "Browning" cut slide, Pistol Dynamics rear combat sights with a gold bead front sight, ambi safety, PD match grade barrel, magwell, 30lpi checkering on the front strap, mainspring housing, and trigger guard, a serrated rear of slide and top of slide, a high cut frame, a two piece guide rod, and a flush crowned barrel. The mainspring housing is slightly chamfered to eliminate the sharp edge (much like a rounded butt). Virtually every part is built in house. Two standouts to mention are the beavertail and bushing. The beavertail is a forged and machined part, not cast like just about every other beavertail in existence. It has a very unique look and a great feel. The bushing and front sight work together in what's called an ISS system, whereas the sight is slid into a linear dovetail and the bushing secures it in place. Another subtle custom flair to this gun is the mag release. Paul cuts the end of it on an angle facing your thumb for easier access. All of these features and more can be read about in detail on the website. The external extractor is a Liebenberg standard on his scratch built pistols. According to him, he gets substantially enhanced extraction and ejection over the traditional internal extractor. Truth be told, I never minded external extractors and since this is a signature pistol from Paul, I wanted it included. As far as slide marking is concerned, this 1911 features "Pistol Dynamics 45ACP" on the left side of the slide and the signature engraving on the rear of the right side. Both are tastefully done. Finally, the entire pistol was finished in matte hard chrome with black micarta grips made especially for this style of magwell. 2007 prices had this build at about $4800, but prices have gone up since. At the range, this gun is incredible, being both very tight and exceptionally smooth at the same time, which is no easy feat. I love everything about it and would recommend Pistol Dynamics to anyone looking for a full house custom from one of the world's best. After all, you only live once, right?
The following are the gun's build specs.
Date: 12/01/2007 This quote valid for 14 days (updated 12/04/07)

o Chassis
• PD 1911 frame assembly
• PD 5" slide assembly w/ external extractor
• 17° cocking serrations
Included

o Accuracy
• Match grade slide to frame fit
• PD Signature Match grade barrel, crowned, 45 ACP
• PD solid ISS match bushing
• Stainless guide rod and plug – full length
• Wolff spring kit
Included

o Sights
• Front sight, PD ISS serrated ramp with gold bead
• Rear sight, PD Fixed
Included

o Trigger group
• Competition ignition system includes PD hammer, sear, disconnector and sear spring
• Long Aluminum trigger w/overtravel stop
Included

o Safeties
• PD custom machined beavertail
• Extended ambi - thumb safety
Included


o Custom metal work
• Custom slide-on Mag well, includes dedicated PD grips
• Front strap, hand checker 30 LPI
• Flat mainspring housing, hand checker 20 LPI
• Mag catch extended (.050"), rake and checker
• Sight, line rear 40 LPI
• Slide, line rear 40 LPI
• Slide, flat top and serrate 40 LPI
• Slide, Browning and ball cuts
• Checker trigger guard 30 lpi
• Carry bevel package
Included

o Magazine
• 2 – tested Wilson magazines
Included

○ Finish
● Hard Chrome entire pistol
● Signature engraving
Included
This 1911 uses no firing pin safety.
Unloaded weight: 41.0oz
Slide: Forged carbon steel
Frame: Forged carbon steel
Country of origin: United States
Approximate 2010 street price: $5000-$5500
http://pistoldynamics.com/index.html

Infinity single stack
The next custom build I'll speak about is from Brandon Strayer and the folks at Infinity Firearms. I have thought for years that this company built some of the most innovative handguns in the world, whether it be a 1911 or double stack. As a custom gun builder, Infinity produces more than most, maybe 300 or so guns per year. That's small time compared to a semi-custom shop like Baer or Wilson that ship 2000-3000 guns annually, but considering every Infinity is custom built off of customer supplied specs, its impressive. The Infinity customer uses a program called the Gunbuilder (now Gunbuilder II) to design his or her dream 1911. The options are virtually endless, hence the name. Mine is a standard carbon steel, single stack 1911, chambered in 45ACP. The barrel is one of the best in the business. It's a Schumann Ultimatch AET bull barrel, with the Infinity exclusive titanium nitride coating, which gives it its gold color. Other features I specified include an ambi safety, "SV" hammer, Triglide trigger, a serrated slide top, Infinity front and rear target sights with a red fiber optic, a panel cut slide, and 30lpi front strap and mainspring housing checkering. The gun is finished in Infinity's exclusive Jet-black Infinicoat. The grips are wood with the Infinity logo up and down the back. As you can see from the build specs, Infinity allows you be specific about every detail. Furthermore, there is a special instructions section to allow you to give other direction in addition to the Gunbuilder's options. I spoke to Brandon for a while during the ordering process and he was as helpful and knowledgeable as they get. Between the 2lb Triglide trigger, tight fitting, AET barrel, and rigid bull setup, this is the most accurate 1911 I shoot. It goes without saying that I think extremely highly of Infinity and would not hesitate to recommend one of these sleek, competition-bred 1911s to anyone. All this quality does come at a considerable cost, however. My build, which is very basic by Infinity standards, ran just under $4000 in early 2008. Prices have risen a good bit at Infinity since that time, so you're probably looking at a cool $4500 for this build today. Leave off the Infinicoat and AET barrel, and you would probably be at $4000 or slightly under. Still, if you're going to buy a full house gun like an Infinity, why compromise?
The following are the gun's build specs.
Design Name: bac3
Template Name: 1911 Govt. Length Pistol - Single Stack
Last Updated: 08/07/08
Quantity: 1
Special Instructions: The entire gun is Infinicoat Jet Black. However, please leave the AET barrel bronze. Also, the grip safety, ambi safety, trigger, hammer, and guide rod are to stay silver or stainless. Please do not coat these parts. I want them to stand out. Brandon, please include the new wood grips with the logo that you mentioned. Thanks for everything. Brian
AET Barrel Option: AET
Barrel: Plain Barrel
Barrel Length: 5
Barrel Style: Non-Bushing Style (Cone/Bull Barrel)
Caliber: 45 ACP
California/ Massachusetts Resident: No
Compensator: No Compensator
Dust Cover: Standard (all)
Dust Cover Fluting: None
Frame Material: Carbon Steel
Frame Style: Traditional (1911 single stack) Round Trigger Guard
Front Sight: Red Fiber Optic .100 wide x 1.5mm
Front Slide Cut: 20 lines per inch
Grip Length: Checkered Rosewood (Traditional frame only)
Grip Safety: Stainless Steel
Grip Surface / Finish: Checkered Front strap (Traditional)
Guide Rod: Stainless Steel
Gun type: Government (5 inch)
Hammer: Triple Xcelerated SV
Hammer Finish: Silver Finish
IPSC Modified Division Infinity IMM Special®: No (typical)
ITI Rail cut: No Rail Cut
Mag Well: No Magazine Well
Magazine Catch: Steel, 4-40 tap
Magazine Release Button: Small Blued Stainless-This option requires 4-40 magcatch.
Mainspring Housing: CS Flat
Panel Cut: Yes
Pistol Finish: Infinicoat Jet Black
Radial Flute: None
Rear Lightening: No
Rear Sight: Infinity® Rear Sight Absolute Target Zero
Rear Slide Cut: 20 lines per inch
Slide Lock Pin: Steel - 4140
Slide Material: Carbon Steel
Slide Profile: Round Top
Slide Racker / Lightening: No
Stirrup Cut: Yes
Strut: Steel
Thumb Safety Material: Stainless Steel
Thumb Safety Style: Ambidextrous Tactical
Top Rib: 30 lines per inch
Trigger Base color: Silver
Trigger Bow: Stainless Steel
Trigger Insert Color: Silver
Trigger Insert Style: Curved Medium
Triglide System: Yes
This 1911 uses no firing pin safety.
Unloaded weight: 39.0oz
Slide: Forged carbon steel
Frame: Forged carbon steel
Country of origin: United States
Approximate 2010 street price: $4500
http://sviguns.com/1101.php?indx=3
Yost Retro Custom
Next we have a retro custom build from none other than master pistol smith Ted Yost at Heirloom Precision. Heirloom Precision is a small custom shop run by Yost, Steve Bailey, and Jason Burton. All three do outstanding work. Compared to the two previously discuss custom 1911s, this one is very subdued, which is exactly how it's meant to be. This custom started life as one of Colt's now discontinued run of WWI reproduction 1911s. After Yost got done with it, there is nothing left untouched and most parts are replaced with superior parts that were either built in the shop or outsourced. This gun is constructed from the best components available, but still retains much of the classic styling. Having said that, there is nothing about this gun's feel that even remotely reminds me of the Colt it was before. The barrel is Kart and the sights are Yost retro, with the front sight using the gold line. 30lpi checkering is done on the front strap and mainspring housing and the ejection port is slightly lowered, but not flared. The gun was bead blasted and blued and retains the original gun's roll markings, albeit they are completely smoothed and deburred. The wood grips were sourced from Hogue and look very nice on this build. Speaking of grips, Yost inscribes his name underneath the right grip panel to not take away from the clean, classic looks. I only shot this gun about 20 rounds so far. While I love it, I always gravitate towards the enhanced 1911s when it comes to range time. Retro custom conversions start at $4195 not counting the base gun. In this case the base gun sold for about $900, so you're talking just over $5000 for one of these builds today. They were about $500 less back when I bought mine.
The following are the gun's build specs.
Build Sheet, Colt WWI s/n: 2508WMK ,
Tighten frame and slide, 1911, steel, labor only
Bevel magazine well, 1911, hand filed, labor only Checker front strap @ 30 lpi, Government and Commander (includes Hi-cut & truing of front strap), labor only
Hand checker mainspring housing @ 30 lpi, including MSH
Premium Quality 1911 trigger job, includes Yost tool steel sear and aluminum trigger
1* back end treatment, labor only
High-cut & bob hammer to prevent bite, labor only
Supply and install plunger tube, new barstock steel, staked
Stock screw bushings, part only
Supply and install factory Colt serrated slide stop, blue
Supply and install Colt style thumb safety, dehorned
Supply and install Kart barrel w match bushing
Complete 1911 dependability package - Wilson Bulletproof extractor, tune ejector, polish feed ramp and throat barrel, polish breech face, chamfer firing pin hole, ream chamber if necessary
Lower ejection port, labor only
Supply and install Yost Classic Retro Sight Package - Yost rear, Silver brazed ramp front
Gold line inlay for ramp front sight (front sight not included), labor only
Dehorn complete pistol, labor only
Satin matte bead blast & blue complete pistol, 320 polish slide flats, labor only
Polish frame flats, labor only
1911 Grips-Hogue
Novak 8-round magazines and Pistol rug
Detail frame, straighten lines, etc., labor only
Cost of gun including mods: $4495.00
This 1911 uses no firing pin safety.
Unloaded weight: 38.6oz
Slide: Forged carbon steel
Frame: Forged carbon steel
Country of origin: United States
Approximate 2010 street price: $5000
http://www.heirloomprecision.com/inf...nversion.shtml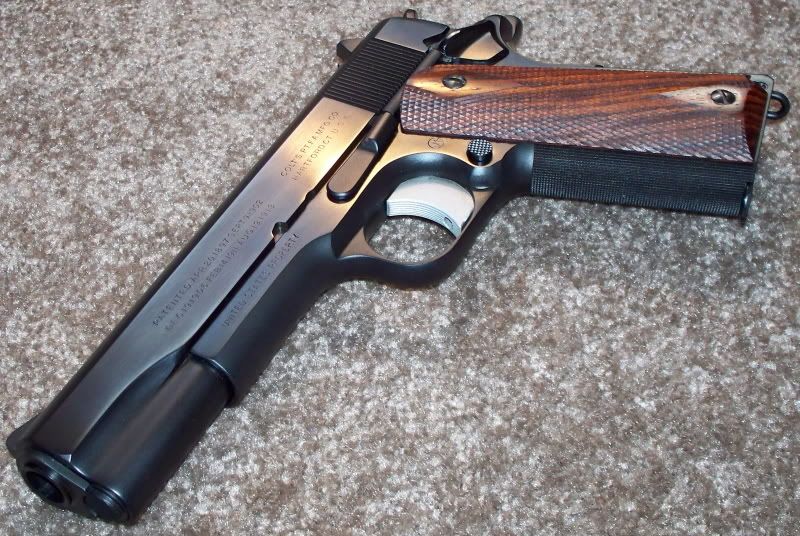 Evolution Gun Works
The fourth custom 1911 I'm going to review is a build from Evolution Gun Works. Unfortunately, getting a custom gun from them is a thing of the past. George Smith, who owns the company and started it building 1911s, no longer takes custom orders. Today, he only makes parts, which, in fact, are some of the best in the world. Since the company is only a 15 minute drive from my house, I've been there a couple of times. This gun is built on a Caspian frame with a magwell and plunger tube being part of it. In fact, it's the same frame Nighthawk uses for the previously reviewed Enforcer. The barrel on this EGW is 4", making it a quarter inch shy of commander length. The barrel is a Storm Lake bull barrel and the lockup is extremely tight, as you can imagine. As with any of these custom guns, there is absolutely no slide to frame movement either. The rear sights are Novak, with a fiber optic front. Obviously, this gun is loaded with EGW internals, which are very high quality. The hammer used is the same one EGW builds for Smith & Wesson's Performance Center models, called the Koenig. It has a unique look to it. The trigger is a flat EGW "E" trigger, but without the E-shaped cutout and the black finish is called E-Treat. I find the finish terrific. It has the same feel and consistency as Black T, but just a shade or two lighter in color. The checkering is very nicely done at 30lpi on the front strap and the arched mainspring housing is serrated. The grip safety is the outstanding Ed Brown part. The grips are beautiful double diamond, but I'm not certain which wood is used. The grain looks a lot like cocobolo, so that's what I'm leaning towards. This gun was not built for me, but rather for the owner of my local shop. He ordered it and it took three years to get done, as George was finishing his orders off a long waiting list. During that time, the owner bought a new custom carry gun, and being he knows what a 1911 fanatic I am, decided to sell the gun to me brand new for $2500. Dealer cost to him was almost $3000, so I got a great deal. Had I bought it from EGW personally, it would have cost $3300 or so. This is one of the last guns to come out of EGW. Naturally, there are a couple things I would have done differently if I ordered it, one being a standard front sight. I like fiber optics, but not on a barrel this short. I also would have gone with a flat mainspring housing, but I also like arched. Being that it's a one of a kind build that can't be replaced, I'm not changing a thing.
The following are the gun's build specs. (Basically just the bill from EGW)
Package gun - $2800
Koenig Hammer - $40
Checker front and rear 30lpi - $200
E-Treat entire gun - $235
Dealer discount – ($400)

Total - $2875

Package Details
Fit and blend beavertail
Front and rear sights
Rear serrations
4lb trigger job for carry
EGW internals (Hammer, sear, disconnector, strut, ejector, extractor, slide stop, pin set)
Ed Brown thumb safety
Carry bevel pistol (dehorn)
Fit bull barrel
Test fire
This 1911 uses no firing pin safety.
Unloaded weight: 38.8oz
Slide: Forged carbon steel
Frame: Cast carbon steel
Country of origin: United States
Approximate 2010 street price: Unavailable
http://egwguns.com/
Morris Tactical Elite
The last custom 1911 I'm going to discuss is my latest build, a Tactical Elite by the great Mark Morris of Morris Custom Pistols (MCP). Like the other top custom smiths I've written about already, Mark has been in the business for many years and introduced the Tactical Elite in 1994. In fact, shortly thereafter, Massad Ayoob bought one and wrote a great article for Guns magazine. Mark is a one-man show and someone who takes great pride in his work. Likewise, he told me several times that nothing leaves his shop until he is 100% satisfied of how it turned out. I believe Morris produces only about 10 to 12 guns per year at most. When he takes on a project or two, he posts them on his site, waits for them to sell, and then gets the specs from the buyer. It must also be stated that Mark is one of the most personable people I've ever spoken to in the gun business. I wanted this particular gun to be a bit more subdued and clean in appearance in comparison to my previously discussed Pistol Dynamics and Infinity. Likewise the specs are geared towards creating a simple, yet elegant custom 1911. This build started life as a new production blued Series 70 Colt. It was a good example as well, as Mark only selects the best from his supplier. All the custom reliability and straightening work aside, I went with 30lpi on the front strap and mainspring housing and 40lpi serrations on the back of the slide to match the sights. The top of the slide is also serrated. The barrel is a Morris stainless match barrel and is step crowned for protection. The standard GI setup is present up front with a smooth plug that Morris builds himself. The trigger I went with is my new favorite style, the short solid aluminum variety, and the sights are all black Morris TKO. In my efforts to keep this gun as clean as possible, the sights are classic black on black and free of dots or beads. Along those same lines, I did not want an ambi safety included on this build. The grips were initially going to be the Morris Alumagrips, but I changed to the milled tulipwood thin grips from Ahrends, pictured on the sight. Of course, Mark threw in a set of Alumagrips anyway and I love them. As with my Liebenberg, this gun is finished in terrific looking matte hard chrome, which is done by the same company who does the chroming for Les Baer. However, its also done to a higher degree of quality and not in the same batch as the Baer pistols. Likewise, it looks nicer than the chrome on my Baer SRP. As far as slide markings are concerned, they're, again, simple. First we have the standard Series 70 Colt roll marks on both sides of the slide, which have been completely cleaned up. After that, the custom markings are the yin-yang logo on the right rear of the slide and "Morris Custom" on the left dust cover. Obviously, the gun purposely lacks some of the features of my Liebenberg, but the parts fitting and blending is the best in my collection. I got the opportunity to put a few rounds through this beauty recently and it shoots unbelievably well.
The following are the gun's build specs.
- Tighten slide to frame fit

- Remove factory mill markings

- Fit S&A grip safety and highly modified mainspring housing. Blend completely into frame.

- Fit and smooth Ed Brown thumb safety

- Front strap and mainspring housing checkered 30lpi

- Chamfer mainspring housing and bottom of frame for snag free carry.

- Fit Morris stainless barrel, throat and polish. Step crown barrel for protection.

- Fit Ed Brown ejector and extractor

- Machine in Morris TKO rear site and dovetail Novak front sight.

- Back of slide serrated 40lpi to match TKO rear sight.

- Fit short aluminum match trigger

- C&S hammer, sear for the trigger group. Change the angle of the seat engagement for a very clean break.

- Top of slide serrated

- Ejection port lowered and flared

- Chamfer the firing pin hole, polish the breach face and disconnect race for reliability.

- Complete dehorn to remove sharp edges.

- Bead blast the slide and frame flats to 400 grit

- Entire gun finish in matte hard chrome by Terry Wolford.
This 1911 uses no firing pin safety.
Unloaded weight: 39.0oz
Slide: Forged carbon steel
Frame: Forged carbon steel
Country of origin: United States
Approximate 2010 street price: $7000
http://morriscustompistols.com/